BY MARIELLE D. MARNE | NOVEMBER 24, 2010
Step right up and find the fitness shoe for you at Sole Trainer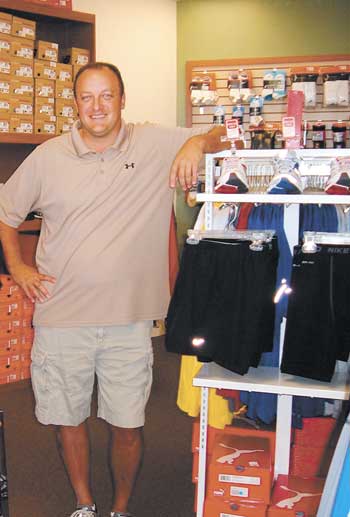 Sole Trainer owner Stacy Yoder invites neighbors in so he can demonstrate why an athletic shoe should not only feel great initially but be the proper fit for a person over the lifetime of the shoe.
CAVE CREEK – Take a stroll into Sole Trainer and let the experts help you put your best foot forward! Sole Trainer is ideal for all adults.

In January owners Stacy and Gina Yoder opened their doors in an optimal location in the Fry's shopping center, but many of their neighbors don't yet know they're here. Customers who visit once become repeat customers.

What can you expect? Lots of name brand shoes: Brooks, Asics, Puma, Mizuno, Skechers Shape-ups. Great workout attire from Under Armour and Nike. Attentive members of staff who take the time to evaluate customers and puts them in the best shoe possible.

There is a focus on running shoes and apparel (traditional or trail) but if you walk or hike or just want to tone the lower body (check out the latest New Balance "Wellness" line for toning), Sole Trainer stocks shoes for all endeavors.

They even watch you walk! They are knowledgeable in the science of pronation and can address high arches and flat feet too! "The majority of people typically wear the wrong shoe," Yoder lamented. He wants to remedy that.

Sole Trainer carries lots of colors and sizes and can special order. If you're not satisfied with an item once you've taken it home, don't fret; return it for an exchange or refund.
Yoder added he's always got some sort of sale going on, but until the end of the year, take advantage of buy one, get one half off savings on shoes, apparel and accessories.

Sole trainer is located at 4815 E. Carefree Hwy. and is open seven days. Call 480-595-5634 for further details.