BY LINDA BENTLEY | NOVEMBER 24, 2010
Shop Walmart by Black Friday 2011?
Spur Cross and Walmart both good for Cave Creek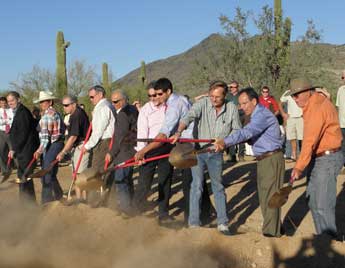 From left, Walmart Regional General Manager Scott Doepke, Friends of Cave Creek Chairman Terry Smith, "Curmudgeon" George Ross, councilmen Jim Bruce, Ralph Mozilo, Steve LaMar, Adam Trenk, Vice Mayor Ernie Bunch, Mayor Vincent Francia and Councilman Dick Esser are pictured during last Thursday's ceremonial groundbreaking at the Walmart site. Photos by Linda Bentley

CAVE CREEK – About 100 people showed up last Thursday, including a few Carefree residents, Dr. Robert Bullington and his son John, who own the property to the north, to celebrate the official groundbreaking for Walmart.

Attendees arrived to music performed by the Cactus Shadows High School Marching Band led by music teacher Gary Wycoff.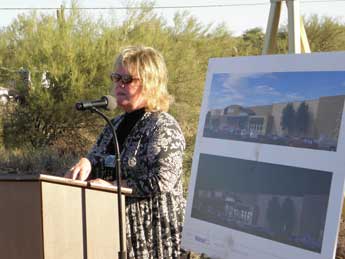 Carole Perry, a member of Friends of Cave Creek Political Action Committee (PAC), which helped pass the referendum on Walmart by a vote of 76 percent, emceed the event and said, "Who would have thought the same people who voted to save Spur Cross would also vote for Walmart?"

Perry concluded both were good for Cave Creek.

She credited PAC Chairman Terry Smith, Todd Newman, who was unable to attend, George Ross, Gabe Royer and others for helping inform citizens of the benefits Walmart would bring to the community.

Perry also thanked Walmart representative Dalia Garcia and others for addressing each and every question and concern along the way.

Ross later said there is a group of about 18 people called the "Curmudgeons" who meet every week and credited them for "working their tails off" to ensure passage of the Walmart referendum.

Perry then introduced "the best mayor in the whole world," Vincent Francia, who summed it up by saying, "Cave Creek was right for Walmart and Walmart was right for Cave Creek."

Walmart General Regional Manager Scott Doepke said Walmart, which has already become involved in the community, will be bringing hundreds of quality jobs with benefits to Cave Creek.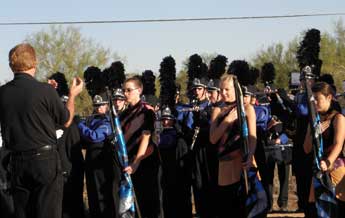 Following the band's performance of the National Anthem, Doepke, Smith, Ross, the mayor and council each ceremoniously threw a shovel full of dirt to memorialize Walmart's official groundbreaking.

Walmart officials expect to be welcoming shoppers by Black Friday 2011.