NOVEMBER 17, 2010
Santa Claus is coming to Tierra Madre Horse Sanctuary
Tierra Madre Horse Sanctuary will be holding its next popular "Open Ranch Day" on Saturday, Nov. 27, from 9 a.m. – 2 p.m.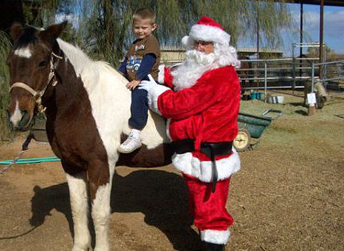 And on hand will be none other than the "big guy" himself – Santa Claus.

Fresh from his annual ride down New York City's Broadway in Macy's Annual Thanksgiving Day Parade, Santa's first stop on his way home to the North Pole will be at Tierra Madre.
Children of all ages will be able to have their pictures taken with Santa while sitting in the saddle on one of Tierra Madre's horses. Last year, many families used the photos as their annual holiday cards as they're printed on photographic paper right on the spot.

"We're thrilled that Santa's agreed to take time out of his busy schedule to come here and visit with our horses and to have his picture taken with the kids," said Tierra Madre's Jim Gath. "I know what I'm asking him for this year – a load of hay!"

In addition to meeting Santa, kids can participate in one of the ranch's most exciting activities: horseback rides in the arena.

They can also paint horse shoes, get their faces painted and meet and feed carrots to the horses, along with a number of additional special surprises. Refreshments will be provided by the popular Rosati's Pizza.

For Mom and Dad, the Open Ranch will feature a vast array of horse-themed merchandise – much of it hand crafted – sent by Friends of Tierra Madre from all across the country. Wall hangings, tote bags, hand-crafted pillows, jewelry, authentic horse shoe wind chimes – even miniature horse shoe Christmas tree ornaments will be on display and available for a tax-deductible donation.

Naturally, as always, a number of original paintings done by Tierra Madre's horses will be available as well. Tierra Madre's horses are known nationwide for their works of art. For those who wish, they can work with one of the horses to paint their own picture, which will be mounted and matted to take home with them.

"This is a great way for families to kick off their holiday season – the kids get to meet Santa and get their pictures taken with him. Mom and Dad can get some holiday shopping done. And kids can ride horses. Because the horses are always the stars of the show."

Thirty-four previously abandoned, neglected, injured or abused horses now call Tierra Madre their "forever home." There are ex-racehorses, ex-show horses, ex-rodeo horses, ex-ranch horses and some just plain ol' horses. The one thing they have in common is that they're all happy to finally be home.

"Our Open Ranches mean a lot to us in the way of fundraising," says Gath. "This year we hope a lot of people decide to come out a couple of days after Thanksgiving and have a ball with some of the best horses in the world. I know the horses are looking forward to it."

For more information and for directions, please call Jim Gath at 480-747-1070.
NOVEMBER 17, 2010
Local earns Silver at Amateur World Championship
Amateur aged geldings reserve champ calls Cave Creek home
OKLAHOMA CITY, Okla. – Jeff Habighorst of Cave Creek, Arizona, and his American Quarter Horse, A Kid By Design, captured the Bank of America Amateur aged gelding reserve world champion title at the American Quarter Horse Association World Championship Show in Oklahoma City, on November 10.

In the amateur aged geldings, 19 entries competed for world champion honors. Habighorst and A Kid By Design, who is a sorrel gelding, won the reserve title and a prize package that includes a Montana Silversmiths sterling-silver buckle, sponsored by The American Quarter Horse Journal, medallion, custom-designed silver-tone trophy, specially designed and logoed Cripple Creek jacket, Professional's Choice products, as well as a cash prize.

A Kid By Design is owned by Vernon Habighorst of Phoenix and is sired by Image Of Kid and out of Design N Lace by Design In Mind. The gelding was bred by Kent Miller of Jonesboro, Georgia.

The 2010 AQHA World Championship Show is the pinnacle event for American Quarter Horse owners and exhibitors around the world, who must qualify for the event by earning a predetermined number of points to compete in each of the classes representing English, western and halter disciplines. More than 3,300 entries from 13 countries are competing for more than $2.6 million in cash and prizes at this year's event, Nov. 6-20, at State Fair Park in Oklahoma City.

The AQHA World Show is streaming live online at americashorse.tv, through the Pfizer Webcam.

The American Quarter Horse Journal provides extensive online coverage including special video interviews and photos of the world champions and all the latest news from the show. A complete wrap-up of the show will be featured in the January issue of the Journal. America's Horse TV, AQHA's online television network, also will feature highlights from the World Show. Be sure to visit americashorse.tv and check out all the channels and programs. For more news from the World Show, visit www.aqha.com/worldshow.

The AQHA World Championship Show is made possible by AQHA Corporate Partners Adequan, Bank of America, B&W Trailer Hitches, Farnam, Featherlite Trailers, FedEx, Ford, John Deere, Justin Boots Markel Insurance, Merial, Montana Silversmiths, Nutrena, Pfizer, Professional's Choice, SmartPak, WeatherBeeta and Wrangler.