NOVEMBER 17, 2010
Want to s-t-r-e-t-c-h your recreational dollars?
A great outdoor deal is slashed to half price
PHOENIX – During these tough economic times there is a fun way to s-t-r-e-t-c-h your outdoor recreational dollars – you can purchase a 2010 annual fishing license or a 2010 annual urban fishing license for half price during November and December.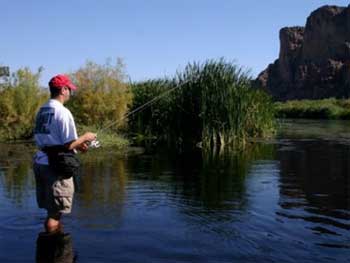 "If you don't already have a 2010 fishing license, you can get almost two months of exciting outdoor entertainment for about the cost of going to a movie and buying popcorn," said Fisheries Chief Kirk Young.

Here's the deal – you can purchase a 2010 annual fishing license for just $11.75 for residents and $35.13 for nonresidents.

What's more, you can get a 2010 Urban Fishing License for just $9.25 whether you are a resident or nonresident. You can even purchase a license online at www.azgfd.gov or at any license dealer in the state (sporting goods stores, Walmart, etc.).

"For the urban lakes, a half-priced license is a fun-filled ticket allowing you to fish during one more catfish stocking plus four trout stockings prior to Jan. 1," said Urban Fisheries Program Manager Eric Swanson.

The urban lakes will be stocked with trout for the first time this season on Nov. 17.
Plus, the Game and Fish Department has an aggressive winter trout stocking program, including waters very close to major urban areas, all in addition to all the great warmwater fishing opportunities for bass, crappie, sunfish and catfish (see the weekly Arizona Fishing Report at www.azgfd.gov for details).

"In the next several weeks we will be stocking feisty rainbow trout in Tempe Town Lake, Canyon Lake, Saguaro Lake and the Lower Salt River," Young advised.

Plus Game and Fish stocks rainbows in mid-elevation waters, such as Lynx and Goldwater lakes near Prescott, the Dead Horse Ranch lagoons near Cottonwood, and the Verde River between Camp Verde and Cottonwood.

Winter trout are also stocked in some streams where adventure and beauty await, such as Oak Creek Canyon, Wet Beaver Creek, and West Clear Creek.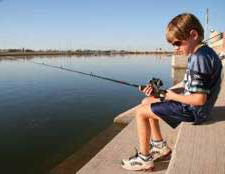 "Oak Creek is an absolutely spectacular setting for fishing and we stock a wide variety of sites along this renowned waterway," Young said. "But both Beaver Creek and West Clear Creek also offer adventures in two intriguing wilderness areas slicing into the side of the famed Mogollon Rim in the Verde Valley.

In southern Arizona, trout are stocked in winter at Parker Canyon Lake, Patagonia Lake, Pena Blanca Lake, Roper Lake and Cluff Ponds.

Young and Swanson added that whether you want fun fishing close to home or some exciting angling adventures just a short drive away, your fishing license is one of the best all-time buys.

"Arizona's mild winters and chamber-of-commerce weather make this a wonderful time of year to fish our lower elevation lakes for all kinds of sport-fish species," Young said. "When it comes to weather and even catching, we've got some of the best winter fishing in North America."

Don't forget that the 2011 fishing licenses are on sale now, and thanks to tremendous snowpack and reservoirs filling last year, Arizona is primed for a fabulous fishing future this coming year.

Go catch some memories – FISH ARIZONA!