BY PETE MOHR | NOVEMBER 17, 2010
Randy Johnson leading Phoenix Herp's $175,000 capital campaign
Proceeds to fund development of on-site Education Center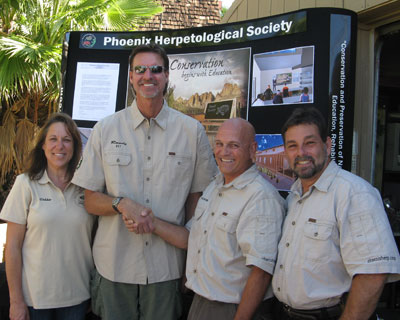 You can't miss "The Big Unit"! Randy Johnson, himself an accomplished photographer, humorously chided Sonoran News, "Be careful! Don't cut my head off!" Following the Oct.18 press conference announcing Randy's leadership of PHS's capital campaign: (l-r) Vice President Debbie Gibson, Randy Johnson, Chairman Russ Johnson, Curator Dan Marchand. Photos by Pete Mohr

SCOTTSDALE – Only 14 months into his 2009 retirement from Major League Baseball, Arizona Diamondbacks pitching legend and future Hall of Famer Randy Johnson is already taking the ball again: this time, in behalf of the real diamondbacks and other reptiles in sanctuary at north Scottsdale's Phoenix Herpetological Society (PHS or the Society).

In mid-October, "The Big Unit," the parental half of the father-son volunteer team at PHS with son Tanner, 14, agreed to head the Society's $175,000 capital campaign, now underway.

PHS will employ the contributed funds to renovate and equip an existing on-site structure as a year-round Education Center (the "Project"). In his letter to prospective donors, Johnson emphasizes, "In 2009, approximately 109,000 persons attended PHS outreach presentations, representing a 33 percent increase from the previous year. Having an on-site classroom at PHS is a major stepping stone in the continued success of conservation education for our children."

PHS Chairman Russ Johnson to Sonoran News: "Undertaking this project is a large commitment for us. We are honored to have Randy leading our fund-raising campaign. I know that he believes strongly in the project, so we're hoping that a lot of people will jump on board." Chairman Johnson anticipates starting construction before year-end, with completion targeted by not later than May 1, 2011.

Vice President Debbie Gibson enthuses about the Education Center's expansion of the Society's summer programs. She tells this writer that outdoors – in triple digits – neither children nor the animals being studied function very well. Gibson proudly notes, "Our education programs meet State of Arizona standards for scientific instruction."

Curator Dan Marchand is already designing interactive experiences for "special needs" children and sight-impaired young persons, all of which programs will be enhanced by an indoor classroom venue.

Donations, fully tax-deductible, will be gratefully accepted at phoenixherp.com, or by calling Chairman Johnson at 602-550-1090. Naming rights opportunities are available for $1,000 or larger donations.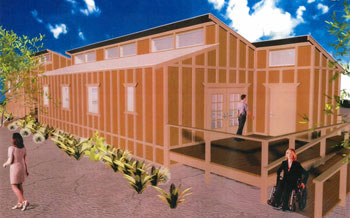 "The Big Unit's" letter concludes, "Your generosity and participation in this campaign will allow me to successfully pitch my second perfect game." Thanks for your leadership, Randy. I can tell that you've got your "game face" on!

An architectural rendering of the planned Education Center at Phoenix Herpetological Society, in north Scottsdale.