BY LINDA BENTLEY | NOVEMBER 17, 2010
ICE hold renders illegal alien with felony drug charge non-bondable
The Arizona Constitution was amended in 2006 to deny bail to illegal aliens charged with serious crimes … Sanchez finally committed a felony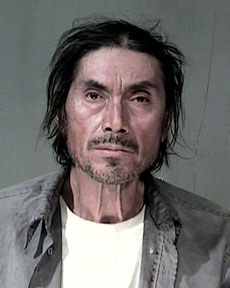 PHOENIX – Modesto Sanchez was arrested and booked into the Maricopa County Jail on a felony count of dangerous drug possession/use on Nov. 13, a non-bondable offense due to an Immigration and Customs Enforcement (ICE) hold.

He was arrested on several outstanding warrants for failure to appear, failure to pay and probation violations on a host of civil traffic and misdemeanor criminal charges dating back to 2004.

Modesto, 46, an illegal alien, pled guilty in June 2004 in Arrowhead Justice Court to having no valid driver license, no proof of financial responsibility and no current vehicle registration.

He was fined, although he never paid and his case was sent to collections.

In July 2004, Sanchez pled guilty in South Mountain Justice Court to having a falsified driver license or ID and, in a plea agreement, charges of making a false report of fire, bomb or other emergency; failure to show driver license or ID; knowingly displaying a false license plate; and no proof of mandatory insurance were dismissed.

In October 2004, Sanchez was pulled over again by Phoenix police for making an unsafe turn, no turn signal; displaying a fictitious license plate; no current registration; failure to produce evidence of financial responsibility; and failure to show driver license or ID.

Sanchez pled guilty or responsible to each count and a fine was imposed, which Sanchez also failed to pay.

In August 2005, Sanchez was cited by Phoenix police for speed greater than reasonable and prudent to avoid a collision, no valid license and no insurance.

A warrant was issued that October for Sanchez's failure to pay the fine imposed.

In July 2006, Sanchez was charged with assault. When he failed to appear, an arrest warrant was issued.

Arrest warrants were also issued when Sanchez, who has been arrested under the names Modesto Sanchez, Modesto S. Sanchez, Modesto Sona Sanchez and Modesto Soriaz Sanchez, failed to appear in October 2007 on charges of no valid license, failure to show driver license or ID; driving with driver license suspended or revoked for failure to pay or failure to appear; driving with driver license suspended, revoked or canceled; displaying a fictitious license plate; and no current registration.

When Sanchez failed to appear in Phoenix Municipal Court on a charge of unlawful imprisonment, a warrant for his arrest was issued in May 2009.

In 2006, voters overwhelmingly passed Proposition 100, the Bailable Offenses Act, with 78 percent of the vote, amending the Arizona Constitution to prohibit bail for any person who is charged with a serious felony offense if the person charged entered or remained in the United States illegally and the court finds proof that the person committed the crime is evident or the presumption that the person committed the crime is great.

In 2006, the legislature passed a bill to specify what constituted a "serious felony" under the Act and defined class 1, 2, 3 and 4 felonies as offenses for which a person who has entered or remained in the United States illegally shall be denied bail.

Had voters not amended the Arizona Constitution to deny bail to illegal aliens charged with serious crimes and had Sanchez not been arrested on a felony drug charge, the cycle of his being cited and released would likely continue, especially while living in a sanctuary city such as Phoenix.