BY PETE MOHR | NOVEMBER 17, 2010
Apollo overwhelms Falcons! Leonard and Gladston score 2nd half "pride" touchdowns
The final ignominy: with 3:33 left to play, Jasmine Arollo (a 5'2", 135 lb. girl!) boots the Hawks' final three points!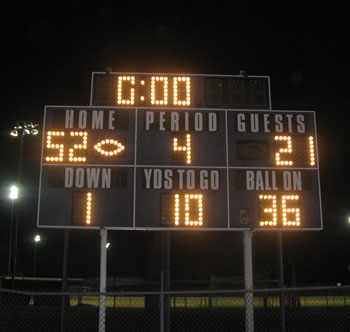 In Vegas, the "boys" pay off on the "lights." Last Friday evening, at Northern and 47th avenues, the scoreboard lights read, "Apollo, 52 - Cactus Shadows, 21". The victorious Hawks move on to Oro Valley, challenging defending champion Canyon del Oro, Friday evening, Nov. 19, in State Quarterfinals. Better watch out, Dorados!
Photos by Pete Mohr
GLENDALE – At Apollo High School, Nov. 12: Hawks, 52 - Falcons, 21. If there are still disbelieving Falcon fans out there, your attention is respectfully directed to the accompanying photograph of the scoreboard, taken by this writer as the clock went to 0:00. The butt-kickin' (that's what it was) at Apollo marked a dismaying end to a great season. Obviously, a 7-3 regular 2010 that ranked CSHS 9th in A.I.A. Power Points was a solid achievement – and an encouraging building block for 2011.
Allright, what happened? Before boarding the team busses, Head Coach Chad DeGrenier, succinctly, to
Sonoran News
: "We didn't execute." Far be it for me to debate "Coach D.'s" evaluation; but from my sideline perspective, I would only modify, "
Didn't
execute because Apollo wouldn't
allow
them to execute."
In scouting the Falcons, and in breaking down the game film(s) exchanged, Apollo Head Coach Zack Threadgill and his staff were "close enough for Government work" to uncanny accuracy. Postgame, as I walked across the field with a dejected Falcon toward the locker room: "Pete, I dunno. No matter what formation we lined up in, they seemed to know
exactly
what play we were going to run."
And make no mistake: the Hawks' athletic defense, playing with intensity, speed and what I respect as "West Side toughness," skunked the Falcons, 35-0, until the last play of the 3rd quarter.
Apollo's unstoppable "Superman," quarterback and safety Jon Brown, did it all on both sides of the ball. Rostered at 6', 203 lbs., Brown played much stronger – and ran a whole lot faster. I began to have visions of Jemarcus Russell and (the late) Steve McNair in their high school days. And depending upon the A.I.A.'s new two-year schedule block, the 'Birds may encounter Jon Brown again in 2011. Thankfully, he's a junior.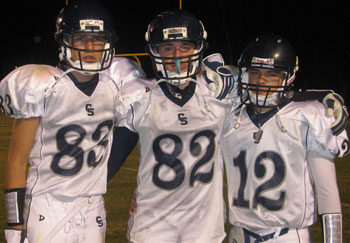 Three touchdowns for pride! Down 0-35, Falcs didn't quit. Quad-Captain John Leonard (c) outleaped Apollo's "Superman" (quarterback and safety Jon Brown) on the last play of the 3rd quarter to score first CSHS touchdown. At 5:12 of the 4th, sophomore Kyle Gladstone (#83), out of action until Nov. 5 from a pre-season concussion, notched his first varsity TD on a 36-yd. pass/run. He's sure to be a "go-to" receiver in 2011. Capping his record-setting senior season, Leonard recorded his last TD catch as a Falcon with 1:05 remaining in a game the 'Birds were beginning to think would never end. Sophomore quarterback Bryce Kinsler (r), finishing his own great season, hung in there to make all three scoring throws. There are no superlatives to adequately praise Kinsler's first varsity season, only his second playing organized football. Placekicker Nick Miller (not shown) successfully ended his Falcon career by going three-for-three on P.A.T.s.
Hawks won the toss and deferred. Joree Schneider gave the Falcons good field position with his kickoff runback to his own 40. 'Birds moved to a 1st-and-10 at the Apollo 47 before failing to convert a 4th-and-4.

Hawks took over, 1st-and-10, at their 41. On their first snap, Brown threw left to wide receiver Chrisdeon Avivi on a simple hitch-'n-go. "Beep-Beep!" Like the fabled Roadrunner, Avivi "whooshed" 59 yards down the east sideline for a touchdown. A block-in-the-back appeared to reprieve the Falcs; but they were whistled for unsportsmanlike conduct: offsetting penalties, play stood. Jason Arollo kicked the first of his seven P.A.T.s. With only 2:58 gone, Hawks led, 7-0. Stunned, the Falcons never recovered, and would go to halftime trailing 0-21. Could the 'Birds come back?

Nic Erickson recovered the CSHS on-side kickoff to start the second half! Falcons, 1st-and-10, at their own 44. A Larson rush and a Schneider catch moved the chains to a 1st-and-10 at the Apollo 30. Larson was stuffed for no gain on 1st down. Hawk cornerback David Gonzalez blitzed quarterback Bryce Kinsler for a seven-yard loss. "Delay-of-game" cost the 'Birds another five. On 3rd-and-22, Kinsler was ruled by the Zebras as "in the grasp." A punt was wasted to the Hawk 14. Cruelly, it seemed, the Falcons had lost the "mo".

Eight plays later, Brown connected with a sliding Avivi on a 14-yard slant for the Hawks' fourth TD. Arollo made it 28-0. Two minutes later, a breakdown in pass coverages left Gonzalez running wide open in the left secondary. Russell (uh, I meant Brown) didn't miss 'im! Arollo boots the 35th point. Game over. Not quite. Here comes the grand finale, this one featuring the "other" Arollo.

With the Hawks rolling at 49-14 (John Leonard and Kyle Gladstone had caught "for-pride" TD strikes from Kinsler), back-up QB Zach Wilson, stopped by middle linebacker Joey Hughes' final "big play," faced a 4th-and-four at the CSHS 7. Coach Threadgill sends on his field goal unit. The home crowd sets up an appreciative roar. What the heck was going on? The field goal try from the Falcon 13 is good! The crowd roars again, the P.A. announcer hailing the kicker as "Number forty-two! Jasmine Arollo!" Sorry fans, at 73, I'm too old to appreciate female field goal kickers. Go ahead, color "Crow" a sexist! Apollo, 52 - CSHS, 14.

With 1:05 left on the clock, Leonard makes his last great grab deep in the right corner of the north end zone. Nick Miller boots the 21st point. Falcons pooch kick off. Apollo fields in the air. Two Jon Brown "victory" kneel-downs, and the Hawks are on their way to Canyon del Oro.

Postgame, I complain to Assistant Coach Jack DeGrenier that the Jasmine Arollo field goal was "Bush League!" "Aw now, Pete," Coach Jack good-naturedly chided, "If that kicker had been your daughter or granddaughter, you'd be proud as heck!" He's right.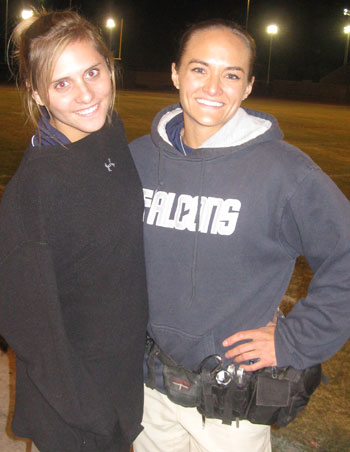 And so I end, more than a little sad, the tantalizing 2010 season with this reminder: "Stick around high school sports long enough and you'll see things you've never seen before." Like a 23-yard late-in-the-game, meaningless field goal by a female kicker.

"Meaningless," I say? Not to Jasmine Arollo. Congratulations, Jasmine. Girl, you got game – and heart!

Good luck to Coach Threadgill and his Hawks. Don't bet against 'em!


Even "Favorite Trainer" (this writer's admiring nickname for Head Athletic Trainer Courtney Runner, right) and her hard-working assistant, sophomore Sawyer Dombrowski, couldn't "stop the bleeding" at Apollo. Not available for photo were water persons Jeffrey Lovell and Jordan Harter. Assistant Coach and Statistician Jake Van Der Stad and Assistant Coach and Equipment Manager Kevin Sterner were camera-shy. What a terrific sideline crew!