BY LINDA BENTLEY | NOVEMBER 10, 2010
Sandwich signs do what sundial signs don't
'The directional signs on Tom Darlington do nothing to direct business into town'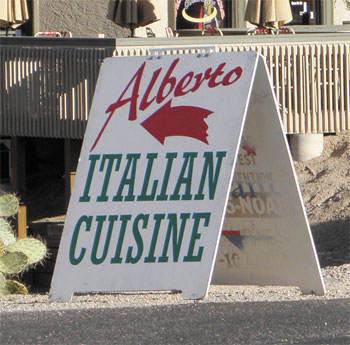 Sandwich, or A-frame, signs were the topic of much discussion during last Wednesday's Carefree Council Meeting, as merchants claimed the $90,000 sundial signs "do absolutely nothing to bring people into the town."
Photo by Linda Bentley

CAREFREE – Council was unanimous in all of its decisions during the Nov. 3 council meeting with Councilwoman Susan Vanik absent and Councilman Bob Gemmill absent for the last third of the meeting, although there was a great deal of discussion on a couple of matters that ended up being continued.

Although staff had worked diligently for about a year and a half on a new sign ordinance for the town, when the economy took a plunge, council voted to institute a moratorium on enforcing certain provisions and allowed the use of sandwich, or A-frame, signs.
However, as Town Administrator Gary Neiss explained, the reason the issue was before council again was because the moratorium had expired.

While council could consider extending the moratorium, as written, they also needed to decide whether or not they wished the moratorium to include allowing signs in the right of way on Cave Creek Road and Tom Darlington Drive, which the ordinance does not allow, even with the moratorium.

Mayor David Schwan said it was council's responsibility to decide what to do about the A-frame signs, stating, "Yes, they drive business in, but we don't want to look like neighboring towns.

"I think it's council's responsibility to give staff direction."

Councilman Bob Coady said, "The directional signs on Tom Darlington do nothing to direct business into town. Let them put a sign out."

Vice Mayor Glenn Miller said he disagreed slightly with Coady in that he believed the directional signs do drive business into town.

Schwan stated the planning commission was looking at permanent solutions but said, "What I think I'm hearing is no one objects to the sandwich signs."

Councilman Peter Koteas said the town should allow "tasteful signs, professionally put together and dispersed."

He said, "We need to do this in the best interest of all."

Coady said he felt it was important for council to decide what it wanted to do about sandwich signs since they cost approximately $400 to $500 each to have them professionally made.
During public comment, Al Swanson said the temporary signs drive in 20 to 30 percent of his business and, since his business is open until midnight, he said he'd like to see some kind of lighting so they can be seen at night.

And, if the signs are to be temporary, he said he'd like to know what the town wants so he could have signs made.

Swanson also stated it was not practical to bring them in at night.

Pat Wesley stated the sundial directional signs do not work and said, "The Gaslight District means nothing to anyone. They're unreadable."

She said, "We need A-frames," adding, "I don't believe they should be left out overnight. 'Tasteful, old world design' is not eye-catching," said Wesley, as she described a sign made by Bertram that she deemed quite attractive but blended into the background, defeating the entire purpose.

Schwan asked how the town could "avoid clutter" if everyone puts them out.

Wesley responded by saying they should be brought in at night.

Catherine Marr, who owns Venues Café, formerly Councilman Doug Stavoe's 34 Easy Street restaurant, said it was a safety issue, having someone go out at 1 a.m. to bring them in, adding, "Carefree could use a little clutter."

Another business owner said, "We should be cautious about making temporary signs permanent. I would like to have A-frame signs but don't want anyone else to have them."
When Gemmill asked, "What percentage of your customers are not finding your business from signs on Tom Darlington?" he responded, "All of them."

Stavoe said he didn't think A-frames were the type of signs citizens would want to see.
Neiss stated, "Merchants want a presence on Tom Darlington. We don't have a magic pill. There will have to be compromise," and said they needed to come up with a standard.
Stavoe said the issue is the town core is not open to the arterials like other towns.
Schwan said they could extend the moratorium but wanted to know what council wanted to do about the signs on Tom Darlington Drive and Cave Creek Road.

Another business owner said she didn't think it looked that cluttered and suggested they try it for six months or a year, stating, "Businesses need signs to tell people where they are."
Wesley said her issue wasn't putting signs on Tom Darlington, although she understood why certain businesses would want them there, and suggested council continue the moratorium and allow signs on Cave Creek and Tom Darlington.

Gemmill excused himself from the meeting to "be home with his ill wife" who was expecting 70 people at their home.

Holly Bergman said members of the business association were willing to co-op and pay for temporary A-frame signs to direct people into the town core until the town could afford new monument signs.

Koteas suggested they extend the moratorium for 60 days and hammer out something to bring back.

Schwan offered extending the moratorium for 60 days and recommended the town use contingency funds to have four temporary signs made that were not business specific.
Miller's motion to extend the moratorium for two weeks and asking staff to enforce the ordinance to remove signs from Cave Creek Road and Tom Darlington Drive passed unanimously.

An item discussing having two readings before passing ordinances, placed on the agenda by Stavoe, was continued until the December meeting as was an ordinance that would amend sections of the town code with respect to indemnification of council members.

Coady had an item placed on the agenda to discuss the town lowering its fee from $250 to $50 for submitting ballot arguments to appear in publicity pamphlets, citing Carefree charged the highest fee of any town in the Valley and called it a "roadblock to citizen participation." Coady agreed to a compromise, lowering the fee to $100, which passed unanimously.