BY PETE MOHR | NOVEMBER 10, 2010
Leonard's "Quinella" dismounts Chargers!
Falcs, seeded #9, travel to #8 Apollo, Nov. 12
TEMPE – I believe a "quinella" in race track jargon, means picking five winners. For Falcons vs. McClintock, on the Chargers' Senior Night, "quinella" meant five touchdowns scored by John Leonard, four on receptions from Bryce Kinsler (27 of 35 for 289 yds., five TDs, no INTs), and a 58-yard scoring runback of an interception with 29 seconds left in the 3rd quarter. Tack on Nick Miller's P.A.T. for a 48-13 lead at the end of three. It was Leonard's seventh INT of the season.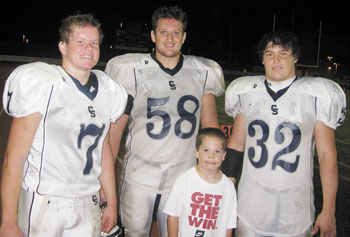 A winning trio and fan: (l-r) R.J. Anderson (two TDs – one receiving, one rushing), Co-Capt. Alex Yazdi (strong on both sides of the ball) and Cameron Larson (125 yds. rushing, one TD, 12 tackles) were major contributors to last Friday's 55-20 win vs. McClintock. (foreground) Thomas "Stonewall" Larson, 7, a Future Falcon, for sure, poses with his "Big Brother" hero. Photo by Pete Mohr
In 2010's ten regular season games, Leonard has scored 17 touchdowns: 15 TD receptions and two INT runbacks. His 14 catches against the Chargers (for 142 yards) gave him 104 for the year, breaking the 4A Conference single-season record of 100 set in 1999 by Calvin Bacus of (Tucson) Sahauro. Congratulations, "Big John," on your hard-earned achievement. Consider, fans, Leonard also starts at safety or cornerback.
John's "Pick Six" came only 16 seconds after Cameron Larson had burst up the middle, then cut right 58 yards for the sixth Falcon TD. For the night, The Bull" (no longer "Mr. O.T.") racked up 131 yards on nine carries. Credit R.J. Anderson's lead blocks with a big assist.
At 3:30 of the 4th, Joree Schneider ran back his second INT of the game, this time 70 yards for a dramatic six; but the play was called back to the Falcon 46 on a hold. Then Austin Stephens and R.J. alternated unstoppable carries, with Anderson going the final seven yards for the 'Birds last TD. Miller booted the 55th point. Chargers scored a "for-honor" touchdown with only 2:06 to play.
Postgame, Head Coach Chad DeGrenier congratulated his team on their decisive win, pointing out that their 7-3 record gave CSHS its first back-to-back winning seasons (following 2009's 11-1) in 15 years. He then emphatically exhorted his troops, "From here on, no matter where we may play next Friday night, nobody stops us!" I've learned not to doubt "Coach D." when he predicts that confidently.
First up, at Apollo, are the #8-seeded Hawks, 8-2 for the regular season. Their two losses came on Sept. 3 (10-20) against Washington and on Oct. 22 (29-33) vs. Moon Valley. Coach D.: "Apollo is very athletic. They operate out of a high-powered spread offense. We need a consistently-intense defensive effort to stop 'em."
"Crow" is betting on the Kinsler-Leonard/ Kinsler-Schneider tandems, complemented by another big rushing night from "The Bull".
And he looks for "The Bradshaw Bad-Asses" to answer Coach D.'s challenge. The Falcons will win in a close one … say … 31-27.
Thanks to Assistant Coach and Statistician Jake VanDerStad for his exacting work appearing in this article.