BY PETE MOHR | NOVEMBER 10, 2010
'Slope sends Volleyball home; Congrats to large CSHS crowd!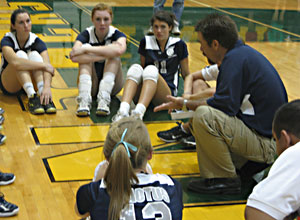 Tough loss, tough duty: Postgame, Head Coach Tom Gardner critiques his Lady Falcons after the disappointment of their semifinals loss to Sunnyslope, Saturday, Nov. 6, at Peoria. 'Slope will play for their third consecutive 4A-I title vs. Prescott, Tuesday, Nov. 9, at (Gilbert) Mesquite, 8 p.m. start. Photo by Pete Mohr


PEORIA – Yeah, Sunnyslope Volleyball beat the Lady Falcons yet again. This time in the State Semifinals – despite the LadyBirds' courageous rallies in Games #2 and #3. So the Ladies left Peoria High's gym with their heads held high, as well they should after improving throughout the regular season to 15-1 (their only loss to 'Slope on Sept.2) and going 14-0 in Desert Sky play, besting Queen Creek on Oct. 28 to win the Region championship.

First, I want to congratulate Co-Captains Shan England and Jordan Smith, Summer Anderson and Cassie Beatovic for providing the "senior leadership" that was the foundation of this team's great season. And against 'Slope, these gals kept fightin' to the very end of Game 3's heartbreaking 25-27 last point.

Second, my heartiest congratulations to CSHS students and fans who showed up at the Semis in impressive number – and voice! I never thought I would live long enough to see a Cactus Shadows volleyball crowd top their Sunnyslope counterparts; but by golly, they darn sure did!

Last, but not least, to Head Coach Tom Gardner. In his four seasons righting the CSHS volleyball ship, he's led the Lady Falcons twice to the Finals (2007 and 2009), the Semifinals this season and the quarterfinals in 2008. His coaching formula, shared with me after an Oct. 21 home win over McClintock: "The girls learned to trust each other. From that trusting, they began to enjoy the game more. Enjoyment produced team chemistry, which translated into their success."

"Well done!" Coach. And to your staff: Assistant Coach Amanda Ware, JV Coach Jerry Lucio and Freshman Coach Greg Reeder.