BY PETE MOHR | NOVEMBER 3, 2010
#1 Volleyball ousts #16 Kellis; Host #9 Sunrise Mtn. Thurs., 7 p.m.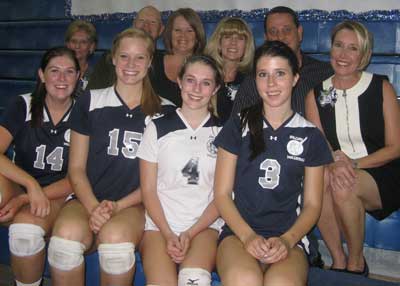 "Senior Night," Thursday, Oct. 28, provided an upbeat celebration of the Lady Falcons' victory (in straight games) over Queen Creek, clinching, at 14-0, the Desert Sky Region championship. [L-r, with parent(s) in parentheses: Summer Anderson (Linda Anderson), Co-Capt. Shan England (Kimberly and Bret England), Co-Capt. Jordan Smith (Lori and Jeff Smith), Cassie Beatovic (Bevin Beatovic – Alex Beatovic was unavailable for photo). Congratulations, senior and parents, on your Cactus Shadows Volleyball careers!

CSHS – On Nov 2, #16 Raymond S. Kellis was not supposed to beat #1 Cactus Shadows in their 1st Round State match – and they didn't. But with their athletic director Dale Nicol ("A.D." at CSHS, 2001-2005) in the stands, the Lady Cougars played the Lady Falcons plenty tough in the first two games before losing 17-25, 18-25. With too much firepower up front, the LadyBirds closed out the match, 25-11.

The victory advances the Lady Falcons into Thursday evening's quarterfinals, at home, against #9 Sunrise Mountain, 1st Round winners over #8 (Vail) Cienega. First serve will be on time at 7 p.m.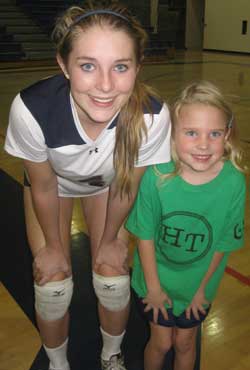 The HomeGals first have to get by Sunrise Mountain; but if they do, their likely opponent in this Saturday's 6 p.m. semifinals at Peoria High School (11200 N. 83rd Ave., Peoria) will be … who else but two-time defending champion Sunnyslope, who downed the Lady Falcons in the 2009 finals at Brophy. Way back on Sept. 2, 2010, the Lady Vikings handed the LadyBirds, at CSHS, their only regular season loss. Head Coach Tom Gardner and his squad want another shot at 'Slope. Here's hoping they get it.

This writer is betting that come Tuesday evening, Nov. 8, 8 p.m., at Mesquite High School (800 S. McQueen Road, Gilbert), the Lady Falcons will be a finalist for the 4A-I championship. Good luck, Gals!

(Above) Co.-Capt. Jordan Smith is introduced by P.A. announcer Jerry Lucio as the "Queen of Digs." She was that and more against the Queen Creek Lady Bulldogs. Postgame, she was photographed with her biggest fan, little sister Dani, 6, a 1st grader at Horseshoe Trails. "Give Dani about nine years," Mom Lori Smith predicted to Sonoran News. Photos by Pete Mohr