BY PETE MOHR | NOVEMBER 3, 2010
Meet the Football Falcon seniors … Ryan Jacobson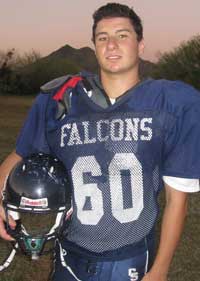 The "bad news" is that several weeks ago, reserve linebacker Ryan Jacobson was suspended from the team. He takes full responsibility. "I missed a couple of practices and had some discipline issues at school. I knew I had to improve my habits – and I set out to do so."

The "good news" is that recently, Ryan has been allowed by Head Coach Chad DeGrenier to rejoin the team. "I'm ready to roll!" he enthused to this writer. "Happy to be back on track!" "Will you stay there?" I pointedly asked. "Absolutely!" he confidently responded. I give this young man high marks for candor and honesty.

Ryan Jacobson, the only child of Creeker Donna Brown and Baltimorean Bob Jacobson, was born Oct. 22, 1992 in New Yawk Citee. His stepfather is Eric Brown. With his family, Ryan moved to the Valley in 2007, his freshman year at CSHS.

As a sophomore, he played defensive tackle. At mid-season, he tore the ACL in his left knee, sidelining him until this season.

Why did Ryan come back? "I love football! Being on the field … just playing the game."

What does being a Football Falcon mean to him? "It's great to be a part of the Falcon family. And it's important to me that my teammates respect me."

With only McClintock remaining in the regular season, how does Ryan see the Falcons? "When we play together, we can beat anyone … achieve whatever we want." His favorite memories as a Football Falcon? "As a sophomore, getting my first tackle … my first sack … our first win."

What has playing football done for him? "It's shown me the value of teamwork and what effort can accomplish." Then, laughing at himself, "It's kept me from getting fat!"

Is Ryan a scholar? "Well, my grades are good enough to keep me eligible for football." He identifies Russ Del Grosso's A.P. Calculus as his favorite class. And he beats most of his teammates in Madden 11.

NAU is his college first choice, planning to become an engineering major. At 5'11", 170 lbs., he's not expecting football to be on his college horizon.

Ryan Jacobson, your forthrightness and humorous self-perceptions will serve you well – helping to keep you on that "right track" you're now proudly traveling. So keep on keepin' on!