BY PETE MOHR | NOVEMBER 3, 2010
Falcs' two-point try 'no good!' #2 Queen Creek escapes with win, 33-32
'Birds to McClintock for Nov. 5 regular season finale; State 1st Round at home hangs in Nov. 12 balance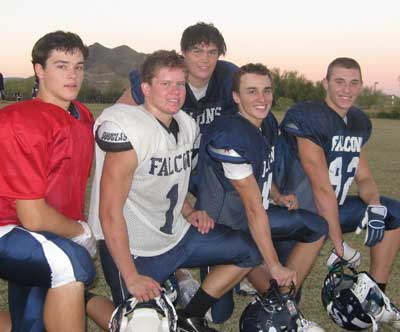 Close doesn't count. But these five Falcons gave their best – and then some. (L-r) quarterback Bryce Kinsler threw TD passes to R.J. Anderson, Joree Schneider (#14), John Leonard (#82). Standing: Cameron Larson powered for two rushing touchdowns in the 2nd period. Photo by Pete Mohr

QUEEN CREEK – I'm confident that more than a few readers remember actor James Garner as "Maverick" in the 1950s-60s TV series and mid-1990s movie of the same name. Garner would devilishly grin and come forth with one of his signature pronouncements: "A faint heart never filled a flush!"

Well, no one can ever accuse Head Coach Chad DeGrenier of being faint-hearted! With seven seconds to play, John Leonard made a tough TD catch from Bryce Kinsler at the goal-line right pylon to bring the "wouldn't-quit" Falcons to 32-33. Nick Miller kicks the P.A.T., and the game goes into overtime, right?

W-r-o-n-g! "Coach D." elected to roll the dice, calling for extra point holder sophomore Matt Hartlen to get the win with a pass for the two-point conversion. "They (Queen Creek) had showed a strong kick rush by blocking two of Nick Miller's earlier P.A.T. attempts; so I decided to go with a different play, one I thought had a good chance to win the game for us. John (Leonard) was wide open; but Matt just couldn't get the ball to him." Remember now, Falcon fans, "A faint heart …"

And so the Falcons slipped from #6 to #9 in the A.I.A. Power Points rankings, one slot below the #8 needed for 1st Round State home game. With #7 Bradshaw Mountain and #8 Apollo finishing against weak opponents, the chances of the 'Birds moving up don't look very encouraging.

"Coach D." is not troubled: "Sure, we'd like to open at home; but if this team plays like they have in the last six quarters (2nd half at Sunnyslope and against Queen Creek), we're gonna be tough – whereever we play." Then he reminded me, "Once you make the Playoffs, anything can happen."

Great effort at 'Creek, Falcons! Make sure good things happen at McClintock, Friday evening, Nov. 5, so the "mo" will be with you going into the Playoffs.
Chargin' to the Chargers!
McClintock High School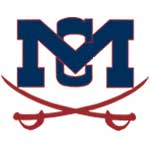 Location: 1830 E. Del Rio Drive (Tempe)
Nickname: Chargers
Colors: Charger Red & Blue
Head Coach: Mike Gibbons
Season to date: 2-7
Last Friday: lost (A) to Prescott, 12-34
A.I.A. Power Points Ranking: #24
Players to watch: #4 Alec Swenson, WR/DB, JR; #7 Semir Andelija, RB/LB, JR; #12 Joseph Wells, WR/DB, JR; #21 Bryce Posten, WR/DB, JR; #42 Keegan Allen, FB/LB, JR; #44 Deandre Dew, WR/LB, SR; #51 Solomon Levin-Sanders, OL/DL, JR; #61 David Walker, OL/DL, SR; #70 Willie Morales, OL/DL, SR; #71 Christian Tafolle, OL/DL, SR; #75 Andre Collier, OL/DL, JR
Last season at CSHS: Falcons completed their 10-0 regular season by defeating the Chargers, 35-19.
This Friday at "Mac": Chargers, always tough in their "house," will be playing for season-ending pride, complemented by keeping the Falcons out of the "Top Eight" in Power Points rankings. But the Falcs will have bigger incentives: getting their 7th win, a possible home game for 1st Round State, and proving that their near-upset at #2 Queen Creek, Oct. 29, was for-real. Head Coach Chad DeGrenier, tersely to Sonoran News: "We gotta win!"
"Crow" predicts: Falcons are ticked about last Friday night – and they'll play that way. Chargers will keep it close – maybe for 36 minutes; but the 4th quarter will belong to the 'Birds, who'll score three touchdowns to win going away … say … 41-17.

Compiled by Pete Mohr