BY LINDA BENTLEY | OCTOBER 27, 2010
Judge calls Fressadi's conduct 'abhorrent to the rule of law'
'Plaintiff has, essentially, granted himself judgment on the relief he seeks in this action'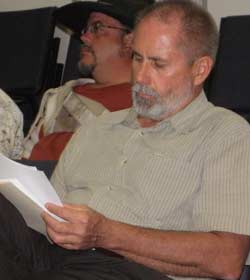 CAVE CREEK – Arek Fressadi lives in Tucson and has publicly touted at public meetings that he's "living in exile from Cave Creek."

Soon, Fressadi should have no further ties to the community, as M&I Bank initiated judicial foreclosure proceedings against his School House Road property in April 2010, which is still pending in Maricopa County Superior Court.

Nonetheless, Fressadi has decided to pull a candidate packet to run for mayor of Cave Creek.

After Town Clerk Carrie Dyrek questioned his residency qualifications, Fressadi wrote to Town Manager Usama Abujbarah, claiming the residency requirements provide that he reside in the town of Cave Creek or any area annexed to the town for at least one year preceding the election.

"Clearly over the last 10 years, I've lived 'at least one year in the town of Cave Creek preceding this election,'" said Fressadi.

A.R.S. § 9-232 states, "A person shall not be a member of a city or town council unless, at the time of the election, the person is eighteen years old, is a qualified elector residing within the city or town at the time of the election, and has resided in the city or town for one year next preceding the election."

As a resident of Tucson, Fressadi clearly may not be a member of the Cave Creek Town Council, which, by definition, includes the office of mayor.

In February 2009, after the board of adjustment granted a variance request to adjacent property owner Real Estate Equity Lending, Inc., allowing for an increase in the maximum amount of hillside disturbance from 25 percent to 37 percent, Fressadi filed a petition for special action against the town, the board of adjustment and the property owner.

Maricopa County Superior Court Judge Sam Myers accepted jurisdiction. However, on Sept. 20, following oral arguments, Myers denied Fressadi's requested relief, citing Fressadi failed to meet his burden of proof in alleging that the respondents acted without legal authority, arbitrarily and capriciously or in abuse of their discretion.

On Feb. 10, 2009, Fressadi sued the town and three neighboring property owners because the town refused to enter into a sewer line payback agreement with Fressadi.

Just prior to a court-ordered mediation conference, Fressadi sent the town an e-mail stating he had capped off the sewer line to the defendant neighbors' properties.

This prompted the town to file a request, which was joined by the affected property owners, for an emergency order from the court to permit the town to reconnect the sewer line.

Oral arguments were held on Oct. 14, 2010 before Maricopa County Superior Court Judge Brian R. Hauser, who took the matter under advisement and issued a ruling later that day.

Hauser stated Fressadi had filed the action "seeking declaratory, injunctive and damages relief arising from a dispute over ownership and access to a sewer line," which Hauser noted has been in place for six or seven years and was connected to adjacent properties not owned by the plaintiff since before filing his complaint.

Hauser wrote, "Without permission of defendants or this court, plaintiff has disconnected the sewer line access for the defendants' adjacent properties. By doing so, plaintiff has, essentially, granted himself judgment on the relief he seeks in this action. This conduct is abhorrent to the rule of law and is not countenanced by the court. Whatever the merits of plaintiff's cause, no party is permitted to usurp the orderly process of justice by taking physical action to grant itself the relief it seeks in court."

In granting the town's request for an emergency order permitting it to reconnect the sewer line, Hauser also ordered Fressadi to not disconnect access to the sewer line for the three adjacent properties.

As the town proceeded to reconnect the sewer line for the adjacent properties, they noticed that Fressadi's property was illegally hooked up to the sewer line, without any approval, permits, fees or metering.

Abujbarah said the town will file a criminal complaint against Fressadi for fraudulently obtaining utility services for the past three years, which is as far back as the town may legally seek payment.

A.R.S. § 13-3724 of the criminal code states it is unlawful for any person to intentionally make a connection with property that is owned or used by a utility to provide utility service without the authorization or consent of the utility; use, receive or otherwise divert utility services without the authorization or consent of the utility if the customer or person knows or has reason to know of the unlawful diversion, tampering or connection; or divert or cause to be diverted utility services by any means.

Obtaining utilities fraudulently is a class 6 felony.

Fressadi continues his vendetta against the town and its employees by filing complaints.
When his complaint to the American Institute of Certified Planners (AICP) against Planning Director Ian Cordwell was rejected, Fressadi persisted.

In a letter dated Oct. 20, 2010 to W. Paul Farmer, AICP Chief Executive Officer, Fressadi wrote, "My complaint to AICP is about ethics not law, the deliberative acts by Mr. Cordwell, Cordwell's actions violated your Code of Ethics, Sction B1 and B2. The purpose of my complaint to AICP was not the adjudication of justice, but to insure that members of your institute comply with your code of conduct."

Fressadi claimed Cordwell withheld relevant information from the board of adjustment with regard to another property owner's variance request.

Fressadi told Farmer, "It's your institution and integrity on the line – not the adjudication of law."

Seemingly preoccupied with "ethics," Fressadi posted a letter he wrote to Holmes Tuttle Ford in January on his blog, citing his involvement in a near-fatal accident in Rio Rico as he pulled off the freeway and careened into a ditch when the power steering failed in his 1994 Ford F-150. He blamed the accident on the power steering pump he purchased in September 2009.
When Fressadi brought the part back for warranty credit, he said he was told by the parts department that Ford would not warranty the part without the box.

Stating he has owned nothing but Ford trucks since 1985, Fressadi wrote, "I find it more than disappointing that Holmes Tuttle would treat a loyal Ford customer in this fashion, but having recently watched, "Flash of Genius," perhaps I need to rethink my loyalty to a company that is so obviously flawed in its implementation of ethics in business."

Readers may recall numerous articles we've published over the years highlighting Fressadi's business practices, which give ethics a run for its money.