OCTOBER 27, 2010
Arizona's Grandest Western Event Planned for November 4-7 in Cave Creek
CAVE CREEK – Wild West Days, an annual Wild West experience that is one of Cave Creek's signature events, will be held from November 4-7, 2010. The three-day venue features a golf tournament at Rancho Manaña Golf Club followed by two days of family entertainment, dances, music, bathtub races, pig races, Southwest Legends Gunfighters, a wild west buffalo show, Miss Wild West Days and horse-related activities and festivities.
Other highlights include: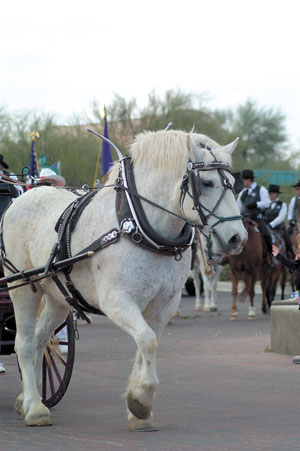 • Western parade (Saturday 9 a.m.): Horses and numerous non-vehicular entries bring the true spirit of the west to Cave Creek visitors
• Bathtub races (Saturday 1 p.m.): Homemade bathtubs race down the street for the grand prize
• Pig races (Saturday, Noon and 4 p.m.): Pigs race as fast as they can to show their personal best to festival visitors
• Best-Dressed horse competition (1 p.m. Saturday) - prizes
• Wild West ice cream eating contest (adult teams only) - prizes
• Mutton Bustin' (Saturday 10:30 a.m.): TC's Arena, across from Harold's and the Buffalo Chip, located on Cave Creek Rd., in Cave Creek. Look for the signs! Sign up starts at 10 a.m. $5 entry fee, helmets provided. Kids 4 – 7 years old may participate.
Only wagons, horses and foot traffic will be permitted in the outer lanes of Cave Creek Road.
Wild West Days, now in its eighth year, is an annual celebration hosted by the Cave Creek Chamber of Commerce, a non-profit entity that serves the businesses and organizations of Cave Creek.
A complete and up-to-date schedule of events and activities can be found by visiting
www.wildwestdayscavecreek.com
.