BY PETE MOHR | OCTOBER 27, 2010
Meet the Football Falcon seniors …
Matt Michalizysen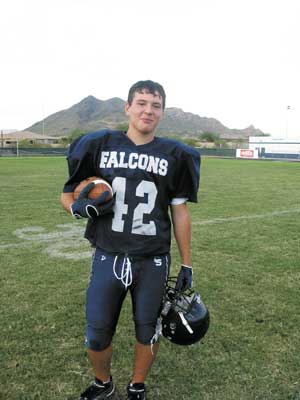 His given name is Matthew, for which the most obvious nickname is Matt. But to his friends and Football Falcon teammates, he is affectionately known as "Meesh." Accordingly, for this, his senior football profile, Meesh he shall be, last name correctly pronounced "Me-uh-lish-un." Did I get that right, Meesh?

Meesh and his twin sister Danielle, both Cactus Shadows seniors, were born June 5, 1993 in Morristown, New Jersey. Their younger sister, Allison, 15, is a CSHS sophomore.

Meesh is the athlete of the three, but he didn't become a Football Falcon easily. As a D.A.M.S. 8th grader, Meesh, after attending an organizational meeting, decided he wanted to play football. "My Mom (Debbie), because of my size, worried about my getting hurt. It took a lot of persuading by my Dad (John) before she agreed to let me play."

Now in his fourth season, he couldn't be prouder to be a Football Falcon, even though at 5'7", 185 lbs., his playing time (at defensive tackle or linebacker) has been minimal. "I love the brotherhood, the teamwork and the sportsmanship of being a Falcon. And I'm proud my coaches and teammates know that I work hard … give 100 percent of myself … no matter what may be involved." And that's why, among the 2010 Falcons, Meesh would likely be voted as the most admired, the most appreciated teammate.

Before this season ends, Meesh's goal is to earn a spot on the "S.W.A.T." (kickoff) team. I don't believe that role, if attained, can compare with Meesh being named by Head Coach Chad DeGrenier as a game captain at Flagstaff on October 1. Being there to see Meesh walk to midfield for the coin toss alongside his fellow game captains Gunnar Black and Cameron Larson is a Falcon sports moment I shall never forget, and I told Meesh so.

"It was a great experience," he acknowledged. "Being named a game captain told me that my coaches and teammates recognized that I always show up and try to give my best. I love the game … the sport."

Meesh's love of brotherhood and teamwork has set his post-graduation sights on enrolling in the Fire Science program at either Glendale Community College or PVCC, with aspiration to become a firefighter. The modest, soft-spoken Meesh knew he wanted to play football: now he's equally focused upon becoming a firefighter. He'll be an outstanding one.

At the Football Banquet in December, when "Coach D." introduces him, his teammates are sure to chorus, "M-e-e-s-h! M-e-e-s-h!" And deep inside, he will know that they love him.