BY PETE MOHR | OCTOBER 27, 2010
Gunnar Black, Cameron Larson, R.J. Anderson lead Falcs to 34-24 comeback win at 'Slope
#6-ranked 'Birds fly to #2 Queen Creek, Friday, Oct. 29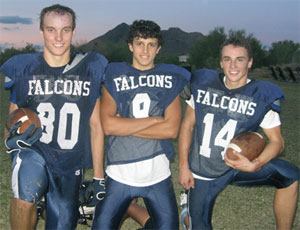 Three "Mo" changers! With CSHS trailing Sunnyslope, 7-17, and only 1:21 remaining in the 1st half, three seniors (l-r) Gunnar Black (65-yd. kickoff return touchdown, his first varsity TD), Nick Miller (34-yd. field goal as time expired) and Joree Schneider (33-yd. punt return that set up Miller's clutch FG) flashed the Falcons back to a momentum-changing 17-17 tie at halftime, Friday, Oct. 22, at 'Slope's Homecoming. Cameron Larson's two rushing touchdowns in the 4th quarter (his second and third of the game) rallied the 'Birds to a 34-24 victory. Photo by Pete Mohr


PHOENIX – A year ago, a clean hit by a Sunnyslope defender put sophomore running back Cameron Larson, scarily concussed, on a MedEvac helicopter to John C. Lincoln Hospital. Thankfully, he recovered quickly. And how!

Last Friday night, Larson returned to T.K.O. Sunnyslope's spirited Homecoming with this line: 156 yards rushing on 22 carries, 3 TDs, his last two in the final five minutes of the 4th quarter, lifting the Falcons to a 34-24 comeback win. Larson tacked on 83 receiving yards on two catches from quarterback Bryce Kinsler (15 of 29 for 267 yards), and racked up a team-leading eight tackles.

And congratulations to wide receiver/flanker John Leonard, whose 25-yard reception from Kinsler to the 'Slope three-yard line at 10:29 of the 4th joined Leonard with Kyle Watkins (2006) and Danny Trittler (2008) as the only receivers in CSHS football history to put up 1,000 yards in a single season. Falcons could've punched it in; but Coach DeGrenier called for two Kinsler kneel-downs, and the game was over. With Queen Creek and McClintock still to play in regular season, and the Falcons headed for at least a State 1st Round date, "Big John" ain't done yet!

Post-practice, Monday, Oct. 25, Head Coach Chad DeGrenier stated emphatically to Sonoran News, "Gunnar Black's kickoff runback for a touchdown late in the 2nd quarter won that football game for us."

Black's gem ignited the Falcons back from a 7-17 deficit. The Falcon "D", highlighted by outside linebacker R.J. Anderson's big sack of 'Slope's talented quarterback Ben Maraz (two 1st half TD strikes), forced a punt that receiver and return specialist Joree Schneider sped back to the Sunnyslope 17. As time expired, placekicker Nick Miller booted the Falcs into a momentum-changing 17-17 tie with his 34-yard field goal. But Coach D. is dead-on: Black's 65-yard kickoff return for a TD got the Falcons off the deck – and back into the game. "I couldn't be prouder of him!" DeGrenier praised.

Postgame, as he boarded one of the team buses, Sonoran News asked Black, "When you knew you were in the clear, how far away did the end zone seem?" "About a million miles!," he elatedly responded. "I'm not going to forget that play as long as I live!" And he shouldn't, for no senior is more deserving of a big play touchdown than the always hard-working Gunnar Black.

You're not supposed to let an underdog stay close, much less take a late 4th quarter lead, right? But when Maraz vaulted over left guard from the one-foot line and Dan Ascencio kicked the extra point, the Vikings went back on top, 24-20, with 8:31 to play. Then the Falcons took over.

Anderson's determined kick-off return gave the Falcs good field position at their own 41. On three straight carries, Larson, with Anderson making the lead blocks, bulled to the 'Slope 18. Then, facing a 4th-and-six from the 16, Kinsler hit a played-out Schneider to the five. An "effort" catch, probably the game's most critical play. For the night, Schneider had eight catches for 134 yards. On the next snap, Larson "walked" in virtually untouched. Miller's P.A.T. was right down Broadway; and the 'Birds were in front to stay at 27-24.

Matt Harlen's "highlight film" INT to the 'Slope 34 positioned the Falcs for an insurance touchdown. A 15-yard personal foul penalty moved the ball to the 19. From there, Larson blasted in with ease. Miller's P.A.T. was good. Falcons, 34 - Vikes, 24. On the Vikings next possession, Anderson made sure the score stayed that way by intercepting Maraz and racing to the 'Slope 25.

With CSHS making the long trip to #2-ranked Queen Creek on Friday, the coaches' discovery of Anderson could not have been more timely for the 'Birds, who now occupy the #6 spot in A.I.A. Power Points rankings. Anderson could be a difference maker – on both sides of the ball. [For a compilation preview of Queen Creek, please see "Boogie to the Bulldogs!"]

Getting to The Creek is not a stroll in the park; but a big road crowd would give the 6-2 Falcons fan support they've earned.