BY PETE MOHR | OCTOBER 29, 2010
#1-ranked Volleyball Falcons are unbeaten (14-0) Desert Sky Champions!
On Senior Night, Oct. 28, wrap up Region title with 3-0 win over Queen Creek; 1st Round State, at CSHS, Nov. 2, 7 p.m.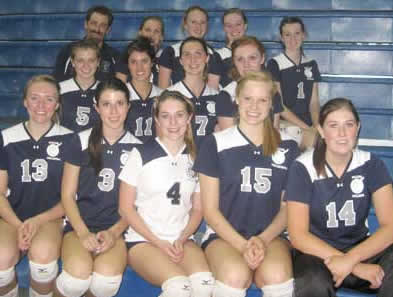 Hail to the D-Sky Champs! (Front, l-r) Carly Lenzen (SO), Cassie Beatovic (SR), Co-Capt. Jordan Smith (SR), Co-Capt. Shan England (SR), Summer Anderson (SR); (middle, l-r) Abby Slack (SO), Leah Manak (JR), Alyssa Wicker (JR), Connor Malone (JR); (back, l-r) Head Coach Tom Gardner, Livi Johnson (JR), Kalyn Peters (JR), Suzi DeSalvo (JR), Kelsey Marks (SO). Not available for photo: Assistant Coach Amanda Ware. Congratulations, Coaches and Ladies!
Photo by Pete Mohr


CSHS – Returning home for "Senior Night" after an Oct. 27 dramatic five-game victory (25-18, 25-19, 11-25, 24-26, 15-8) at Cactus, ranked #1 in 4A-II, the Volleyball Lady Falcons were out to protect their #1 ranking (4A-I) and win the undisputed Desert Sky Region Championship.

But the visiting Queen Creek Lady Bulldogs, playing as tough as their nickname, didn't make that easy. In game #1, they actually led the Lady Falcons, 23-21, before a netted serve made the score 23-22 and sent sophomore Carly Lenzen to the service line. Lenzen's three aces brought the Bulldogs to heel: CSHS, 25 - Q.C., 23!

The Lady 'Dogs didn't quit, coming back to tie the Lady Falcons, 23-23, in the 2nd game. With senior Cassie Beatovic on the service line, Co-Capt. Shan England's power tip at the net, followed by junior Kalyn Peters "kill," kenneled the visitors into a 0-2 hole. The LadyBirds then led wire-to-wire in Game #3, with Lenzen "kills" winning the 23rd and 25th points in a 25-18 verdict.

So it's on to the State Tournament for Head Coach Tom Gardner's Ladies, whom he praised to Sonoran News for their "team effort" against both Cactus ("a huge road win for us") and QC ("a team that got better and better as the season progressed"). The LadyBirds, almost certain to be seeded #1, will host, in their 1st Round match, the #16 seed (to be determined), Tuesday evening, Nov. 2, 7 p.m. first serve.

If the Lady Falcons advance from the 1st Round, they'll stay at home for their Quarterfinals match against an opponent to be determined, Thursday, Nov. 5, also a 7 p.m. start time. See sonorannews.com for Tuesday's results.

Congratulations, D-Sky Champs, on your 17-1 regular season. Keep it going at State!