OCTOBER 20, 2010
Tierra Madre Horse Sanctuary to hold Halloween-themed Open Ranch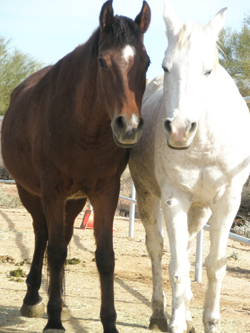 Tierra Madre Horse Sanctuary in Cave Creek will be holding another of its popular "Open Ranch" days on Saturday, October 30, from 9 a.m. –2 p.m.

Because it's the day before Halloween, there will be a Halloween costume contest for all children and young people – and the young at heart. Prizes will be awarded for Best Costume, Most Original Costume, Scariest Costume and Funniest Costume.

Further, all children – with or without costumes – can have their photographs taken on a horse and can take the photos home with them.

"The photo-on-a-horse portion of the program has been really popular in the past – like last year with Santa Claus," says Tierra Madre's Jim Gath. "Through the wonders of modern technology, mom and dad and the little ones have a tangible living memory of their time with the horses."

There'll be tricks and treats and pumpkins and probably a few goblins, Gath promises. There will also be pizza and soft drinks provided by Rosati's Pizza plus contests, horseshoe painting and treats for the horses.

"We just hope the Headless Horseman doesn't show up!" he says.

In addition, natural horsemanship trainer, Jody Swink, will be on hand to demonstrate the proper techniques for working with horses.

"Our Open Ranches have become quite popular over the past few years. And it's funny how horses can make smiling wide-eyed children out of the most crotchety Grandpas," says Gath with a laugh. "Even me."

There will be a $5 donation for adults and children under 12 are free. There is also ample free parking.

For more information or directions, call Jim Gath at 480-747-1070.