BY LINDA BENTLEY | OCTOBER 20, 2010
Village at Surrey Hills revamped and restarted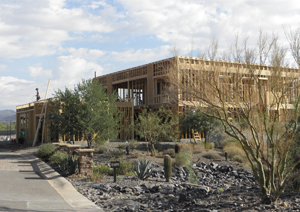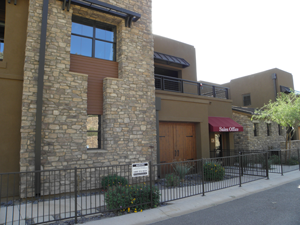 Village at Surrey Hills
CAVE CREEK – Almost two years ago, when the economic crisis began turning Arizona's real estate market on its head, the Village at Surrey Hills, the upscale townhouse project at the southwest corner of Cave Creek Road and Surrey Drive, with units selling from the high $600s, became virtually unsalable.

The lenders, partners and developer have been battling it out in court, with the most recent order stating the matter would be continued on the inactive calendar for dismissal, without further notice, on December 6, 2010 unless a Motion to Set and certificate of Readiness is filed prior to that date.

VRE Carefree, which now owns the property, has amended the original plat, changing the project in hopes of producing one better suited to Cave Creek and the current housing market.

The original units, which remain unsold, were designed as two-story townhomes averaging around 2,700 square feet.

The two two-story buildings currently under construction will each contain four units, two downstairs and two upstairs, averaging 1,500 square feet each.

According to Paul Sharpe of VRE they plan to open a sales office in one of the unit's garages around Nov. 1 to solicit feedback for the newly revamped project.