BY PETE MOHR | OCTOBER 20, 2010
The Tim and D.J. Show stuns Falcons
John Sanders' Cats get 55-21 revenge
FALCON STADIUM – For the rest of her days, Lai Yi Ohlsen, the delightfully-spirited Student Body president and varsity cheerleader, will rightfully recall Friday, Oct. 15, 2010 as the night on which she was hailed by her fellow seniors as Cactus Shadows Homeoming Queen. Sadly, for "King" John Leonard, perhaps the most seriously-determined Football Falcon, he will remember, for too long, the awkwardness and embarrassment he felt that his halftime "coronation" on the home sideline came with the stunned Falcons on the wrong end of a deflating 0-28 score.
No different for teammates Alex Yazdi and Joey Hughes, who also were nominated for Homecoming King. After handing Student Council Co-Advisor Cameron Bender his crown and regal sash, "King John" hurried off to rejoin his teammates in the locker room, leaving Queen Lai Yi to make the traditional "victory lap" drive (with CCUSD Superintendent Dr. Debbi Burdick at the wheel) escorted by 2009 King and Queen Austin Welch and Maddie Moore.
In time, I'm confident Big John, Yaz and B. P. (Joey) will come to appreciate the honor voted them by their classmates. Remember, guys, in your life's experience, there will be only one High School Homecoming.
So much for royal commentary. What-the-heck happened to the Falcons?! Painfully simple. The Sabercat tandem of quarterback Teddy Ruben and running back D.J. Foster zigged, zagged, darted, raced, powered and (the verb of your choice) virtually at will, leaving (with the exception of sporadic snaps) a humiliated Falcon "D" grabbing nothing but air.
Postgame,
Sonoran News
inquired of Defensive Coordinator Matt Bradshaw, "How do you stop a pair of speed backs like Ruben and Foster?" "Bear," as I nicknamed him several seasons back, came right at me: "You tackle 'em! That's how! Our tackling tonight was pathetic! Horrible!" And that, Falcon fans, really was the story – assuming you weren't in the West Stands.
If Saguaro Head Coach John Sanders bussed up to Falcon Stadium looking for his Sabercats to avenge their disbelieving 20-21 blocked extra point loss to the Falcs last October, this writer unconditionally awards him an impressive "mission accomplished." The 'Cats flat-out whipped up on the Falcons "every way but Sunday!" But the number of "personal foul" and "unsportsmanlike conduct" penalties they took while "Pursuing Victory with Honor" should be film-studied by A.I.A. Director of Officials Gary Whelchel.
Write this down: one of these seasons, the Sabercats continuing to play "Sandersball" will result in serious – if not permanent – injury to an opposing player. That unwitting young man, his family and Coach Sanders will have to live with that for the rest of their respective lives. "Winning" ain't worth that, Coach. And you know it.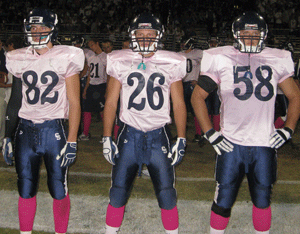 Wearing the Falcons' specially-ordered pink jerseys to honor "Breast Cancer Awareness Month," Captains (l-r) John Leonard, Max Gersh and Alex Yazdi waited for Referee Doug Mahoney's call to midfield for the coin toss. [Falcon Football's generous benefactor Matt McMahon was the ceremonial honoree.] But the intended "pink" was deemed by Referee Mahoney not in sufficient contrast to visiting Saguaro's white; so he rightfully directed the 'Birds back to the locker room to change into their traditional home "blues"(see Leonard #82 and Gersh #26 in photo below). "Here comes 'Big Blue'!" exclaimed veteran P.A. Announcer Kevin Aholt; but it was to be "Big White's" night – on "Big Blue's" Homecoming. Double ugh!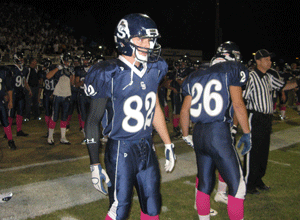 Photos by Pete Mohr
The whole doggone game was bizarre: the pre-kickoff jerseys exchange required of the Falcons by Referee Doug Mahoney (their well-intentioned "Breast Cancer Awareness Month" pinks that obviously weren't pink enough to contrast with Saguaro's white); an almost "Twilight Zone" 40 m.p.h. wind/dust storm that blew out of nowhere from south to north immediately after the Falcons' failed on-side kickoff to start the game; and then, with the 'Birds long out of it at 21-55, outstanding freshman running back (15 touchdowns in five games) Joe Kuhlmann's season-ending left knee injury in the last 60 seconds. His MRI on Monday discouragingly revealed both a torn ACL and miniscus. All of Falcon Football will be praying for your complete recovery, Joe. You are, indeed a "Falcon for the Future."
A Falcon "friend" advised this writer that the team didn't watch the Saguaro film at their Saturday morning practice; so I'll end my commentary on last Friday night's disaster by praising the 'Birds too little/too late comeback in the 3rd quarter, highlighted by their three touch downs: Co-Capt. Max Gersh's six-yard end zone reception from quarterback Bryce Kinsler, Cameron Larson's 19-yard sweep, and Kinsler's one-yard sneak. Nick Miller was three-for-three on his point-after placekicks.
Getting beat up by the 'Cats hurt – bigtime; but it's far from the end of the Falcs' season. "Win out" over 'Slope, Queen Creek and McClintock could fill the West Stands, Friday night, November 12, for 1st Round State. That means the 'Birds must finish ranked in the top eight of A.I.A. Power Points. The Falcons' second loss dropped them two notches to the #8 position. "Hang on, Sloopy!"
Falcon coaches and players know that I'm a huge fan of this team; but right in here, they need a "heart" check, one that must come from within each player. Three seniors left the team during the week before Saguaro. A confidential source opined to me late Sunday afternoon "there aren't enough players on this team who really care." That observation leaves me somewhere between "saddened" and "dismayed." I'm counting on Quad-Captains Yazdi, Gersh, Leonard and Hughes (plus the other 17 seniors) to step forward with the "senior leadership" that will return the Falcons to an intensity they've got to have. All of them know that last Friday night's "whatever-you-want-to-call-it" was effort-unacceptable.
Falcs should get back on the right track this Friday night at 1-6, #28-ranked Sunnyslope; but, on Friday night, Oct. 29, the 'Birds travel to 6-1, #2-ranked Queen Creek. Which Falcons will show up?
Only they can answer that question.