BY PETE MOHR | OCTOBER 20, 2010
Swim and Dive striving for State!
CSHS – Bless his faithful heart! CSHS Swim and Dive Coach Eric Niebch dreams on: "That one day, a benefactor … an 'angel' … will come forward to build our kids a pool – one not only of racing dimensions, but an aquatic facility that would complement physical education programs at all CCUSD schools." I'm thinking that Coach Niebch needs to put in his bid for some of the $13 million "bond" money CCUSD is sitting on. Don't hold your breath, Coach.

The Aquatic Center bond vote failed. The new YMCA on 60th Street was constrained, by national "Y" regulations, from including a racing pool in plans for its recently-opened facility. So Coach Niebch, now in his seventh season of mentoring the FalFins, must CCUSD-bus his squad down to Cactus Park Pool (Cactus and Scottsdale rwoads) for practices and "home" meets. Of all Cactus Shadows sports, that 30-mile roundtrip makes Swim and Dive's logistics the most difficult.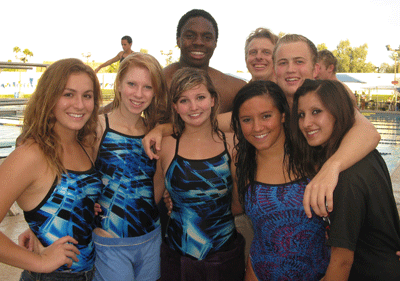 But these young athletes press on with as much energy and enthusiasm as ever. Leading the FalFins this season are seniors (l-r) Songee Barker (diver), Sammy Franke (diver), Demi Wood (fly), Belen Enguidanos (free and fly), Charos Orlov (free and breaststroke); (back, l-r) Emmanuel Aire (free), Adam Bowers (free). [Coach Niebch peers between Aire and Bowers.]

On Thursday, Oct. 21 (divers) and Friday, Oct. 22 (swimmers), "The Fish" will compete for State qualifying berths at the "Charger (McClintock) Invitational." The following day, they'll swim again at the "Last Chance Invitational," Kino Junior High's pool in Mesa. The Kino facility will also be the site, Nov. 5-6, of the 4A Conference State Championships.

Falcon qualifiers to State and a complete Swim and Dive roster will appear on-line Nov. 3.
Good luck to Coach Niebch and his team come this Thursday-Saturday. Sonoran News salutes your perseverance – and spirit!