BY LINDA BENTLEY | OCTOBER 13, 2010
Lackluster education forum excluded audience participation
'The end result was that we had a bunch of liberals wanting more money'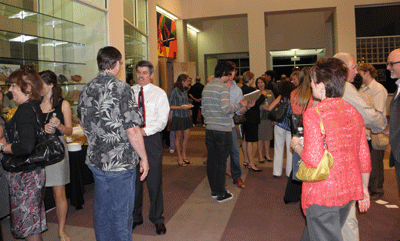 Those who attended the IB students' panel discussion on education policy seemed to walk away unenlightened. People expressed disappointment over there being no audience involvement and used terms such as "fluff" and "milquetoast mild" to describe the event. Photo by Linda Bentley

CCUSD – On Monday, the Cactus Shadows High School (CSHS) International Baccalaureate (IB) 2011 Diploma Candidates hosted what it billed as a community forum to discuss educational issues and policy.

Superintendent Debbi Burdick, as moderator for the event, was aware that the panelists invited to participate in the forum did not include all of the candidates running for certain offices.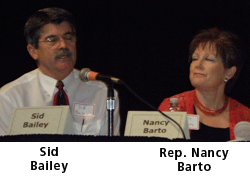 Rep. Nancy Barto, R-Dist. 7, who is running for the Senate, was invited but not her Democratic opponent Eric Shelley.

Heather Carter, running for the House in District 7 was invited but not Republican David Smith, Libertarian Jim Iannuzo or Democrats Peter Royers and Don Chilton.

Penny Kotterman, Democratic candidate for Superintendent of Public Instruction, was invited to attend only after Republican candidate John Huppenthal said he could not attend.

David Smith said he found out about the event a week earlier when he attended the Cave Creek Unified School District (CCUSD) forum for school board candidates and was handed a flyer about the event.

When he asked board member Susan Clancy about the forum, she said she knew nothing about it either and questioned IB teacher Erinn Ferris why some candidates running for office were invited and not others. Ferris explained her students put the list of panelists together.

Ferris said the students subsequently invited the other candidates to participate via e-mail on Oct. 6, apologizing for the oversight.

Smith said by the date of the forum he had still not received a phone call or any correspondence from anyone at the district inviting him to participate and decided not to go because he didn't want to appear as though he was "crashing" an event to which he was never formally invited.

Royers said he was invited only a few days before the event and couldn't arrange to attend on such short notice. The originally selected panelists were all invited a month earlier.

Shelley was the only last minute invitee to participate.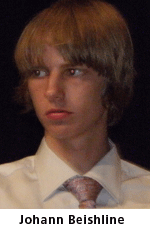 As we reported last week, Cave Creek Mayor Vincent Francia, Carefree Mayor David Schwan, former CSHS Principal Sid Bailey, IB student Johann Beishline, community member Arch McGill and Attorney Steve Hart, chair of the LearnYes Political Action Committee, made up the rest of the panel.

Considering the district had previously entered into a consent agreement with the Maricopa County Attorney's Office regarding the use of district resources for the purpose of influencing the outcome of elections, in violation of statute, Burdick was obligated to say something to the IB event organizers.

Burdick should have explained that the district could not legally hold a taxpayer-funded political forum without providing all the candidates running for those offices an equal opportunity to present their views.

The odd format of the forum included 12 questions that were formulated in advance by the IB students and provided to the participants beforehand. Panelists were asked just before the forum to pick the question they wished to respond to and were then given two minutes to speak before other panelists could speak on the topic by raising their paddle. No more than 10 minutes was allowed for each question and panelists were abruptly cut off mid-sentence when their time was up.

Because they dutifully kept to the time allotted for each question, attendees expected an opportunity to ask their own questions. However, when the last of the prepared questions were discussed, the forum was over and everyone was ushered out to the lobby for the reception.

The forum was poorly attended other than members of the North Phoenix Tea Party (NPTP), which decided to use the event in lieu of its regular meeting.

Wes Harris, NPTP founder, stated it was a pity there was no interaction from the audience and said, "The end result was that we had a bunch of liberals wanting more money … Most of them complained about the fact CCUSD paid its teachers so little and could not pass bond issues and overrides despite having one of the lowest tax rates in the state."

Bailey said the solution is to get parents to the polls to "get these things passed" and said it will take an effort from people with children in the district.

During discussion about the high turnover of teachers at CCUSD, Hart said it was partially because about half of the 3.2 million teachers in the country are baby boomers and will be retiring, adding, "We're not going to get a push with salaries." He said the national average was $49,000 to $50,000 but there were teachers at CCUSD, who, after 10 years, were making $32,000.

Kotterman stated there was high turnover in administration as well and said, "Teachers will stay if they have good leadership." Otherwise, she said no amount of money will get teachers to stay.

Bailey stated he was the 14th principal in the high school's 22-year history and said he's never found an effective school without effective leadership.

Harris said he was stunned in light of the fact they've had 14 principals at their only high school's 22-year existence and never really discussed a solution other than money.

He was surprised such a small district could have an overhead rate "crippling their ability to pay teachers or buy textbooks."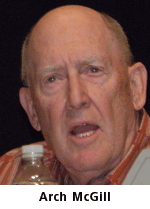 During discussion over class size, McGill said he was a skeptic and wanted to know where the data was that smaller class size improved learning Kotterman said the issue of class size was highly controversial but cited a Harvard study that said smaller class size during K-3 showed students performed better in college and had better health.

However, according to a new University of Harvard study, Florida's 2002 constitutional amendment mandating reduced class sizes statewide proffered no discernable impact upon student achievement.

Harris believes the IB program itself is an area where money can be saved.

While Bailey touted Advanced Placement (AP) and IB as the "gold standard," Harris says AP is every bit as good, if not better than IB, but costs nothing extra.

"Their problems are obvious," said Harris, "Do not raise taxes … spend what you have more wisely … consolidate with other districts to eliminate overhead."

He said, "They need to deal with the management issues because that is why principals and teachers leave. Prioritize teachers' salaries at the expense of everything else and put in an evaluation merit system for those teachers. The issue is simple … the teachers. Everything else does not matter. Class sizes are not an issue, only the quality of the teachers."

Harris said he grew tired of hearing how Arizona does not spend enough on education and stated, "When I look at my tax bill, I cannot help but wonder where the money goes because it is significant when compared to everything else."

He said, "These people just do not get it. Manage what you spend and channel it to the correct areas and the spending will be adequate. Waste it as we do around the country and no amount will ever be enough."

Harris lays much of the blame on the teachers' unions, which he said look out for no one, not even their own members.

He said the theme of the forum centered around raising taxes.

During the reception, district resident Jayne Friedman was overheard talking to Beishline, who commented during the forum about how the district has not been able to buy new math textbooks for eight years.

Friedman stated, "Last time I checked, two plus two still equals four."