BY LINDA BENTLEY | OCTOBER 13, 2010
Thieves hit Circle K Sunday morning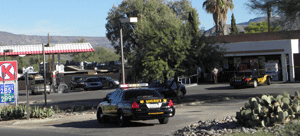 CAVE CREEK – Shortly after 5:30 a.m. on Sunday, Maricopa County Sheriff's deputies responded to a robbery call at the Circle K, located at 6802 E. Cave Creek Road.

Deputies had the premises secured as detectives arrived, preserving any potential evidence for the crime scene unit to process.

According to preliminary information available, two males entered the store after first cutting off power, ordered the clerk to stand over by the soda dispenser and then proceeded to rob the store, although it wasn't yet known what was taken.

The two suspects were described as young males who, after making off with approximately $400, liquor, cigarettes and Playboy magazines, fled on bicycles.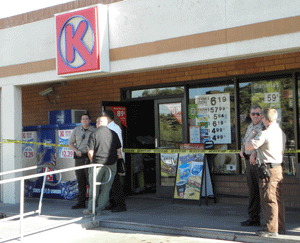 Because there was no power, the store's phone was also not working and the clerk was unable to immediately call to report the incident.

The Frito Lay delivery man arrived shortly thereafter and loaned the clerk his cell phone to report the robbery.

While the Circle K store is equipped with a video surveillance system, it was not clear if the system operates on a battery backup and how effective the footage would be in the dark.

This robbery adds to the recent spate of burglaries in the area. If anyone has any information about this or any other recent incidents, they are encouraged to contact MCSO at 602-876-1011.