BY PETE MOHR | OCTOBER 13, 2010
Meet the Football Falcon seniors … Tony Matus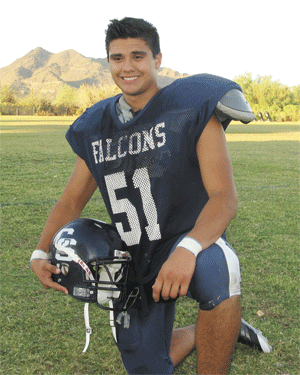 I first met Tony Matus last June at Pinnacle's Passing League Tournament. Early in our Oct. 11 interview for this Profile, Tony allowed as how he was "a pretty good student," identifying his favorite subjects as English and French. But from our initial meetings and subsequent encounters this fall, I rate him 4.0 in energy, enthusiasm and effort. This young man is one live wire!
Born Nov. 7, 1992 in Phoenix, Tony is the oldest of Creekers Tony, Sr. and Sylvia Matus's three children. Michelle, 16, is a Falcon sophomore. Jesse, 10, is a B.M.E.S. 4th grader. Two days before his 18th birthday, the Falcons end their regular season at McClintock. Winning the 4A-I State Championship would be, for Tony, the best birthday present he could order up!
Injury and health "bugs" have bedeviled Tony's football career, which he began as a freshman linebacker for Coach Kyle Sager. A dislocated shoulder knocked him out of action at mid-season. As a middle linebacker, he started for JV Coach Matt Mason. Tony lettered at that position on Varsity his junior year, even though a bout with pneumonia sidelined him for the last four games. Now lean-and-mean at 5'11", 210 lbs., he was in the mix for a linebacking start before suffering a concussion in practice the week of the Cienega opener.
So it is that his personal goal for this, his senior season, is to get back in the starting line-up – and "help win State!" How does he rate the team after six games? "Paradise Valley was a huge wake-up call for us. That loss got our minds straight, and now we know where we're going. If we keep practicing hard and play our best these last four games and in the Playoffs, I like our chances."
What has football meant to Tony? "I love being a Falcon! And I love playing for "Coach D.'s" program. Football has kept me disciplined. And being with my best friends is great! For me, at Cactus Shadows, football is 'it'!"
This spring, he plans a Varsity Baseball tryout: "I'll play first base … in the outfield … anywhere Coach Grace wants me." Then he'll move on to U of A, NAU or St. Louis University, his targeted major being architecture or digital media and communications.
Tony Matus, in the future, I like your "chances!"