BY PETE MOHR | OCTOBER 13, 2010
Kinsler-to-Schneider TDs bail out
'Senior Night'
FALCON STADIUM – Homecoming 2010's theme is "Scooby Doo and The Case of the Haunted Homecoming." Had it not been for senior flanker Joree Schneider's leaping, outfighting catches (both from "wouldn't quit" sophomore quarterback Bryce Kinsler) in the game's last five minutes, "Senior Night" would've launched a more than "haunted" Homecoming.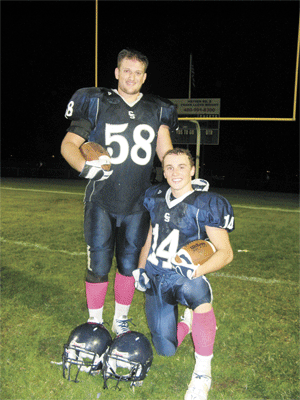 Falcons wore pink socks to honor "Breast Cancer Awareness Month." Seniors Co-Capt. Alex Yazdi (standing, with "D" game ball) and flanker Joree Schneider (holding "O" game ball) lead their teammates to a 23-20 comeback over Apache Junction.
On Oct. 8, when Apache Junction's (A.J.) determined running back Harrison Pomeroy waltzed nine yards through three Falcon tackles into the south end zone at 2:38 of the final period, the visiting Prospectors stunningly vaulted to a 19-10 lead. David Gamboa's P.A.T. made it 20-10. Plenty of time for the 'Birds to answer with a touchdown and a field goal, then win in OT, right?

Well, not quite. The HomeBirds fluttered, with a razzle-dazzle pass flop putting A.J. in business, first-and-ten, at their own 48. But the Falcon "D," inspired all game by the monster play from defensive left end Co-Capt. Alex Yazdi, held, forcing a punt to the CSHS 17. Time left: 5:11.

Kinsler hit Schneider in full stride racing down the west sideline. A.J.'s "Mr. Everything," quarterback/linebacker Roy MacHuca, saved the TD, knocking Schneider out-of-bounds at the visitors' 25. Two plays later, on a "hitch-and-go" pattern, Schneider, in the left end zone, out-leaped and outfought two Prospector defenders for Kinsler's TD pass, his first of the night. But money-in-the-bank Nick Miller's P.A.T. was blocked! Falcons down by 4 with only 3:44 on the clock.

MacHuca recovered the on-side kick; but miraculously, with the Falcon "D" staunch and Head Coach Chad DeGrenier's strategic use of his three time-outs, the 'Birds got the ball back only 24 seconds later – after Tanner Morgan had boomed a 60-yard punt dead to the CSHS eight. Time left: 3:20.

Cameron Larson sprung the Falcs into breathing room with a bruising 30-yard catch-and-run to the CSHS 38. Then Kinsler went to work with Schneider and John Leonard. After shaking off a blind-siding sack from Morgan, he found Schneider, first-and-ten, at the Prospector 33. Offsides, A.J. to their 28. On the next snap, only the yardage was different, as Kinsler threw toward Schneider in almost the identical spot in the left end zone. "The Littlest Falcon" leaped between two defensive backs and somehow came down with the ball!

"I believed that I had to catch that ball … and I did!," Schneider proudly recounted for Sonoran News. Miller booted the 23rd point: 1:33 remaining.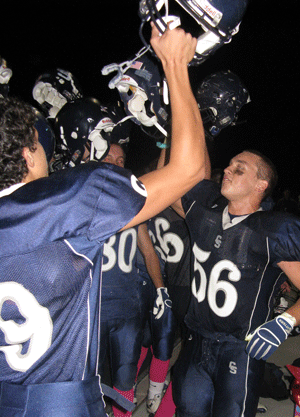 Miller intentionally bounced a funky kickoff that Morgan hastily covered at the A.J. 25. A Parker LaRue sack; a 2nd down incompletion; then a 3rd down "drop" before Ashton Elletson batted down MacHuca's 4th down pass. One Kinsler "knee," and the Van Chevrolet scoreboard read, Falcons, 23 - Prospectors, 20. "I don't bee-leeve what I just saw!" Thank you again, Jack Buck.

It's "All hands on deck!" when the Saguaro Sabercats come snarlin' in, Homecoming Night, Friday, Oct. 15. How can you not be there?


On "Senior Night," Friday, Oct. 8, visiting A.J. came within 1:33 of making Falcons sing the "blues" instead of their traditional victory "Fight Song"! Quad-Capt. Joey Hughes (above) led the celebration (#9 Nick Miller in foreground). Number 6-ranked 'Birds host the vengeful #8 Saguaro Sabercats in Homecoming showdown, Friday, Oct. 15. Photos by Pete Mohr