BY MARIELLE D. MARNE | OCTOBER 13, 2010
Magnifico Marzano's Grill celebrates second year with tasty entrees and expansion


CAVE CREEK – Tempus fugit! Time does indeed fly, and the staff at Marzano's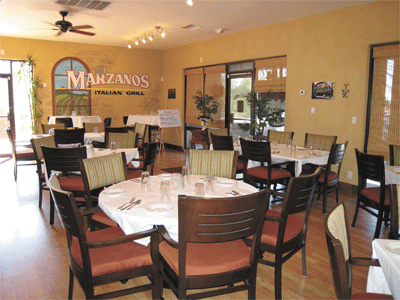 Italian Grill is already preparing for its second season of superb entrees and inviting ambiance. Owner Rick Patterson is still surprised to learn some of his neighbors haven't yet discovered Marzano's. When first-time diners do come in, they are delighted to learn the restaurant is nothing like the pizza and sub shops previously in the Village Center location. It's a full service, casual dining eatery with competitive pricing and generous portions. "We send customers home with a lot of takeout boxes," Patterson offered.

So what can patrons expect at Marzano's? Real Italian food! But yes, you can order pizza. However, it's a unique style, Patterson explained. It sports a thin crust and the toppings are not the typical pepperoni and meat sauce. Think eggplant perhaps. Chef Dean Cacciaroni (who cooked for former President Ronald Reagan!) said the pizza dough is the recipe of his grandfather. You know it has to be authentic!

Both Patterson and Cacciaroni stress the food is made with fresh ingredients. A scant few canned items are used. Matter-of-fact, the Marzano name stems from the San Marzano tomato, considered by many chefs to be the top sauce tomato on the globe! Thus, the name is as notable as the dishes. Each Friday a special is introduced for the week. Be sure to ask, as it's always a hit.

Right now, there's lots of perks at Marzano's Ristorante. A full bar offers wine, beer and cocktails. Yummy desserts. Catering is available and small parties can be hosted onsite. Special requests are often accommodated. Takeout is an option as well. However, both Patterson and Cacciaroni added that Marzano's is evolving into something even greater than it already is. Outdoor dining under the stars and in the shadow of Black Mountain is being fine-tuned. Music. More food, more fun. There's definitely a following of repeat customers. If you're not yet one, check out the website at www.marzanosaz.com and then make a reservation, which is encouraged during season. Tables are filling up fast! Open for lunch and dinner at 6554 E. Cave Creek Rd. Call 480-488-2224 for hours and further details.