OCTOBER 13, 2010
Harold's Cave Creek Corral celebrates 75th Anniversary throughout October
Harold's hosts 75th Anniversary Party Oct. 16; and Oktoberfest Fund-raiser features over 40 microbreweries on Oct. 17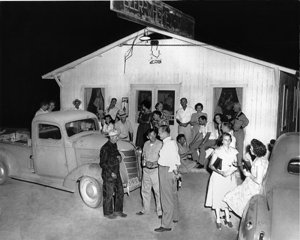 A man named Johnny Walker built Harold's original structure in 1935. Back then it was known as The Cave Creek Corral Bar, and it became popular with patrons who spent their days building Bartlett and Horseshoe Dams. Harold's celebrates its 75th Anniversary with a party on Oct. 16, an Oktoberfest fund-raiser on Oct. 17, and several other concerts and promotions throughout the month of October. Photo courtesy of Harold's Cave Creek Corral.
CAVE CREEK – Cave Creek's original "Wild West Saloon and Restaurant," Harold's Cave Creek Corral, is throwing itself a huge 75th Anniversary Party throughout the month of October with several concerts, food and drink specials, a fireworks display, a live buffalo show, an Oktoberfest fundraiser and more. The restaurant is located at 6895 E. Cave Creek Rd. in Cave Creek.
Patrons can take advantage of 75 cent domestic small beer drafts during Happy Hour (Mon. – Sat. from 2 p.m. to 6 p.m.) and other drink specials throughout the month. Patrons who bring in a pair of old boots can see them hung from the ceiling and in return receive a 10 cent drink (limit to one drink per day per customer).
Harold's is also asking patrons to bring in old photographs of fun times at the restaurant. The best photos will be displayed on the restaurant's walls along with existing photos of celebrities and others who have visited over the years.
Known as one of Arizona's best Cowboy bars, Harold's will host several special concerts and events throughout the month.
Saturday and Sunday, Oct. 16 – 17:
All are invited to Harold's 75th Anniversary Party on Saturday, Oct. 16. The festive, free party starts at 7 p.m. and features live music by The Crown Kings outside from 8 p.m. to midnight and popular country band Mogollon inside from 9 p.m. to 1:30 a.m. In true Harold's fashion, the party also includes a spectacular Fireworks Show at 9:30 p.m. and a "Babes on Bulls" sexy mechanical bull riding contest at 11 p.m. with a $100 cash prize to the winner.
Former Cave Creek resident and actor Dick Van Dyke played the drums at Harold's on several occasions. Harold's celebrates its 75th Anniversary with a party on Oct. 16, an Oktoberfest fund-raiser on Oct. 17, and several other concerts and promotions throughout the month of October.
Photo courtesy of Harold's Cave Creek Corral.
The celebration continues on Sunday, Oct. 17 with "Harold's Oktoberfest" from 1 to 7 p.m. The special fund-raiser, which benefits Hospice of the Valley and other local charities, features a German buffet, a beer garden with more than 40 micro brews, T.C. Thorstenson's live Buffalo Show, a Kid's zone with bounce house, a Games2U Van, and more. The event also features live music by Young Country, Rondavous, Mogollon, and Crown King.
Tickets to the Sunday, Oct. 17 Oktoberfest are $15 per adult, which includes access to the event, one round through the German Buffet table, and three micro brew samples. Adults 21 years and older can also purchase additional beer sample tickets for $1 and full size pints will also be available. A portion of all beer sales will benefit Hospice of the Valley.
Children 6 and under receive free admission to Harold's Oktoberfest and all kids 12 and under receive a free hot dog and free admission to the Kid's zone. A small fee will be charged for face painting.
Saturday, Oct. 30:
Harold's 75th Anniversary month-long party culminates with a Halloween party on Saturday, October 30 during the Town's "Cave Creek Wicked."
Danny Piacquadio, co-owner of Harold's, says the month-long anniversary celebration will pay tribute to the thousands of patrons who have visited the establishment and more than seven decades of "crazy stories."
Today, Piacquadio and co-owner Bill Vale continue Harold's tradition of serving delicious cuisine while providing patrons a nostalgic view into the days of the "Wild West." Several Western movies were filmed there, including Rafferty and the Gold Dust Twins, Electroglide in Blue, and Little Foss and Big Halsey. Photos of these movies are displayed throughout the restaurant along with many photos of celebrities who have visited Harold's to experience first-hand it's famous hospitality.
Known as Harold's "Mayor," Bill Vale actively participates in community and municipal activities, and he and his wife, Marie, are leading forces behind the restaurant's philanthropic efforts, which raise more than $250,000 annually for local charities.
Harold's has gained national attention as the largest Pittsburgh Steelers bar in the nation, attracting more than 4,000 Steelers fans statewide during the 2009 Super Bowl. Harold's can also claim to be one of the top neighborhood bars in the nation. Maxim Magazine readers rated it as the #1 "Greatest American Neighborhood Bar" in Phoenix in 2005. In addition, Harold's was also chosen as the "Best Cowboy Bar" in the 2008, 2009, and 2010 azcentral.com Reader's Choice polls.
For more details about Harold's 75th Anniversary October events, call Harold's Cave Creek Corral at 480-488-1906 or visit
www.haroldscorral.com
.