BY LINDA BENTLEY | OCTOBER 6, 2010
Indemnification issue difficult considering Carefree's vindictive history
'Council did not approve those expenditures. They were approved and paid by the mayor'
CAREFREE – Call to the Public brought Roberta O'Dwyer from the Carefree Terrace Condominiums (CTC) to the podium Tuesday night to tell council their sewer rates from Liberty Water, formerly Black Mountain Sewer, have gone from $46 to $73 per month.

Looking to council for help, O'Dwyer said, "This is a very extravagant increase."

Joseph Capora, also from CTC, said that constituted a 42 percent increase and called it "absolutely outrageous."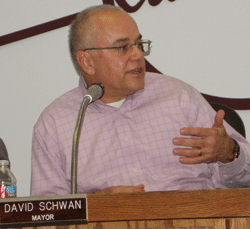 He asked, "Does council have any authority over our sewer system? Why don't they?"
Mayor David Schwan said Black Mountain has always been a private company and is regulated by the Arizona Corporation Commission, which is who they needed to contact.

Councilman Doug Stavoe asked to have the check register ratification pulled from the consent agenda and questioned the $6,024 legal fees paid to Moyes Sellers & Sims. He asked, "We authorized $1,500. What happened?"

Town Accountant Jim Keen said that's what the bill was and the town had to pay it.

Councilman Bob Coady asked if Attorney Bill Sims was told this was "Carte Blanche."

Town Administrator Gary Neiss stated the original estimate was $1,500 but the bill was based on actual hours or service provided.

Schwan stated the original estimate was based on a number of hours of legal advice that he thought would be needed to resolve the issue about public records and said, "There was more advice asked for."

When Councilwoman Susan Vanik asked if that was the final bill, Neiss responded the charges were through Aug. 31 and since Sims appeared at the Sept. 7 council meeting, he anticipates there will be one more.


Coady said he was provided information stating the costs were over $9,000.

Neiss said some of the charges were already billed and paid in August.

During public comment, Dale Cole said, "Every contract I sign is for an amount not to exceed," suggesting council should consider employing similar safeguards to avoid such occurrences.

Stavoe stated, for the record, "Council did not approve those expenditures. They were approved and paid by the mayor."

Council unanimously approved a $225,000 settlement in Henry and Kathy Tinkelenberg v. Town of Carefree. Attorney Rae Richardson said the complaint stemmed from the town's installation of a culvert at the Dream Street Bridge, which the Tikelenbergs claimed diverted water to their property and caused damage. She said they originally asked for $900,000.

Schwan said Carefree would be required to pay $1,000 with the remaining $224,000 to be paid by the risk pool.

Council unanimously voted to authorize the mayor to enter into a contract with the Carefree Business Association and use $12,000 in contingency funds toward the group's $36,000 marketing plan.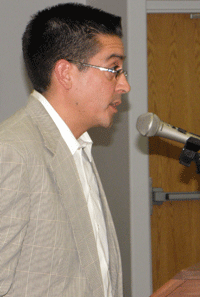 Steven Garcia with NewPath Networks, recently acquired by Crown Castle, asked the town to enter into an agreement in consideration of $75,000 to install one and a half miles of fiber optic cable in Carefree to connect an installation for its client ATT at the Boulders in Scottsdale so it would be operational.

Since NewPath had made presentations previously to Carefree residents, Gary Hayworth said, during public comment, "This is kind of like letting the camel put his nose under the tent and incrementally getting the camel's whole body inside."

Stavoe moved to continue the item until NewPath was prepared to present the rest of its proposal to council.

Garcia said he didn't see any reason for delay and stated there was no added benefit to the town to delay its decision.

When Schwan asked when NewPath would be able to bring the "whole megillah" back to council, Garcia said it would be December at the earliest if it went to the planning commission in November.

When asked if there would be harm in delaying their decision, Garcia seemed unable to provide a definitive answer.

NewPath's attorney finally clarified there would be harm because their client, ATT, was waiting for them to complete the project, part of which was previously approved by council.
Stavoe's motion failed by a vote of 2-5, with Coady voting in favor.

Koteas, "in the spirit of cooperation," moved to approve the item.

Vice Mayor Glenn Miller said he didn't understand what the problem was and said it was just a matter of installing utilities in a public right-of-way, which they can't deny them from doing.

The item passed by a vote of 5-2, with Coady and Stavoe dissenting. Stavoe took umbrage with a comment made that council could be sued if it didn't approve the item and said council should not be making decisions based on fear of being sued.

Schwan introduced the next item regarding changes to the town's indemnification codes, stating, "So it does not make the town's checkbook open to council to spend willy nilly."

Schwan said when Attorney Bill Sims reviewed the town's indemnification code he suggested it be revised to make it less broad.

Town Attorney Tom Chenal said he reviewed the city of Phoenix's indemnification code and proposed changes based on that language, which would only indemnify council members if a civil action were to be filed against them in state or federal court.

He said that was "probably a cleaner point in time as to when indemnification kicks in."

However, Stavoe said the town has a history of criminal complaints filed against council members for intimidation.

Coady, who has been the victim of such, said he didn't think any council member would want to serve unprotected from those types of actions.

Koteas stated, "We serve for free. This would make us targets … Most cases don't go to court."

During public comment, Sue Coady asked Chenal if he looked at Cave Creek's ordinance "since, unlike Phoenix, they serve for free."

Chenal said he had not.

She then told Miller he could have been in the same situation as her husband, had anyone decided to pursue the bidding issue.

Miller said, "I didn't do anything wrong."

Lyn Hitchon said Councilman Coady filed accusations against former Mayor Ed Morgan regarding open meeting law violations and stated Morgan didn't feel he needed a lawyer while the complaint was still under investigation.

Coady responded by saying Morgan instead invited Attorney General Terry Goddard to Kiwanis and sat next to him at lunch. He said they broke bread together and the complaint went away.

Koteas, reiterating he was very upset over what occurred with Sims' legal bill going from $1,500 to almost $10,000, said to punish future people who may want to run for council just seemed wrong.

Chenal suggested a change to the wording so that it said indemnification would kick in when a civil or criminal complaint is filed in state or federal court.

Vanik asked if Chenal would also change the language where it said "him" to "him/her."

Coady asked, "So, you're saying if I'm found guilty I'm covered but if I'm innocent I'm not?"
Chenal indicated that was pretty much the case.

Coady moved to deny the changes but later withdrew his motion, allowing Koteas' to move to continue the item until the November, which passed unanimously.