BY LINDA BENTLEY | OCTOBER 6, 2010
Bullingtons can traffic signal for unanimous council approval

CAVE CREEK – Larry Wendt, owner of the Buffalo Chip Saloon, said "We're going to make it," as he walked into Monday night's council meeting. He was talking about making it through the usually slow summer months, which were further devastated by a troubled economy. And now that the weather was cooling off, he said he was looking forward to the town's busy season.
During announcements, Mayor Vincent Francia thanked Town Manager Usama Abujbarah and staff for A Taste of Cave Creek and said he couldn't imagine it being better than last year, but it was.
During Call to the Public, Wendt stated the last time he was at a council meeting it had to do with the noise ordinance but this time it was different and said, "Kudos to this fine town, council and staff that put on A Taste of Cave Creek. Wow! You knocked it out of the park! It was a success."
During the site plan review for the Bullington Family's proposed Black Mountain Plaza on the southeast corner of Cave Creek Road and Carefree Highway, Attorney Paul Gilbert announced the Bullingtons were officially deleting their request to place a third traffic signal on Cave Creek Road between Olesen Road and Carefree Highway and only 80 feet or so north of Walmart's driveway.
Gilbert said he was also "keenly aware" the request to have the site plan effective for seven years was too long and asked to amend that to two years, adding if that was too long, he had the authority to change that to one year.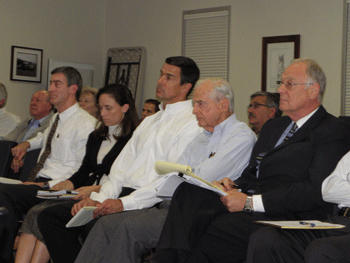 Dr. Robert Bullington, Jr., from left, Traffic Engineer Dawn Cartier, John Bullington, Dr. Robert Bullington and Attorney Paul Gilbert listened as council unanimously approved the site plan for Black Mountain Plaza once assurances were made a controversial traffic signal was eliminated from the plan.
Photo by Linda Bentley
He also wanted to make a clarification on the record about a "misleading canard" and said the Bullington family was not trying to hold up Walmart's approval. "It's simply not true," said Gilbert, adding, "We've had vigorous discussions with Walmart regarding joint access. But we're not trying to slow down Walmart.

"I hope this puts the issue to bed. If we wanted to hold up Walmart, we wouldn't have made the dedications."

Gilbert said, "We meet and comply with all the requirements necessary for site plan approval. We removed the traffic light."

Councilman Ralph Mozilo asked if they would be amenable to adding stipulation number 29 to state no traffic signal would be installed at the site without town approval.

Gilbert said it that was no more than a restatement of what they have said but had no problem with the stipulation.

Councilman Steve Lamar said, "I want to make sure your client understands the traffic signal is not part of this and is a completely separate issue."

Councilman Dick Esser questioned how traffic would be able to turn left onto Cave Creek from that location without a light.

Traffic Engineer Dawn Cartier said the signals at Oleson and Carefree Highway should be sufficient to create gaps in traffic and stated it would be something that would continue to be monitored.

Mozilo asked who would be doing the monitoring, Gilbert responded by saying both the town and his clients.

He also questioned Planning Commission Chair Dan Baxley as to why the commission voted unanimously against a recommendation for approval and asked what caused their frustration.

Baxley said he couldn't really profess to know what the other commissioners were thinking but said there was frustration over waiting all summer and they were embroiled heavily in the matter of the traffic signal and the various opinions by traffic engineers.

During public comment, Ben Pearson said on behalf of himself and others, he was withdrawing any objections to the plan.

Vice Mayor Ernie Bunch moved to approve the site plan with stipulation 29, as proposed by Mozilo and with a two-year timeframe to apply for permits.

He said, "I'm thrilled to see something happening at that corner."

Mozilo said he was glad to see the project move forward with the stumbling blocks out of the way.

As council voted unanimously to approve the site plan, Francia thanked the Bullington family and said the committee that produced the White Paper indicated the town needed to have economic diversity and this, in addition to Walmart would be another component.

Council also voted unanimously to approve: the second reading to an ordinance to allow retail sales in the Commercial Buffer zone remain as a permitted use with a site plan review; a change order with Garney Construction for the amount of $30,556 to allow for the installation sewer service to the Chevron Gas Station, which Utilities Manager Jessica Marlow would be paid for by Maricopa County Department of Transportation in conjunction with the intersection improvements; and ratification of authorization for Marlow to enter into an equipment lease-purchase agreement with Bingham Equipment for a mini excavator, trailer and buckets at a cost not to exceed $9,817.14 per year for five years ($49,085.70).