BY PETE MOHR | OCTOBER 6, 2010
Falcs blow out Flagstaff
#8 'Birds vs. #6 'A.J' here, Oct. 8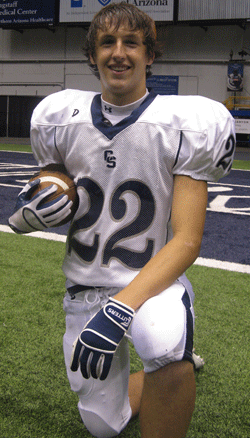 Sophomore cornerback Matt Hartlen won "D" game ball for his three INTs, the second of which he ran back 22 yards in the 3rd period for the ninth (and final) Falcon touchdown.


FLAGSTAFF – This writer is seldom at a loss for words; but four nights after the Falcons destroyed the Oct. 1 Flagstaff Eagles' Homecoming, 61-0, "Crow" (who predicted Falcons by 54-10) opts for the charitableness of listing the highlights hereinafter; but first, the two back-to-back home games awaiting the 4-1, #8-ranked 'Birds: this Friday evening vs. the 4-2, #6-ranked Apache Junction Prospectors; then at Homecoming, Oct. 15, against the big, bad Saguaro Sabercats, 3-2, and #9-ranked, after a 25-33 home loss last Friday to defending 4A-I Champion (Oro Valley, Tucson) Canyon del Oro.

"When the going gets tough, the tough get going!" When they turn out the lights Oct. 15 at Falcon Stadium, the 'Birds will have proved to themselves (and their fans) just how tough they can be – if they consistently play that way. Listen to Head Coach Chad DeGrenier: "For both Apache Junction and Saguaro, each with two losses, we're a 'must-win' game. We've got to keep getting better."

On last Friday's blow-out win, "Coach D." says, "We got better – all game. Got a good look at a lot of players and had the opportunity to work on our no-huddle offense." But he knows that his team could've used a stiffer test before the Prospectors, then the Sabercats, roll into the Foothills. ("A.J.", at home, was upset by Greenway, 21-12, and had lost, 13-14, their Aug. 27 opener at Bradshaw Mountain (now #3), when their two-point try failed.)

Ah, yes, "Flag" highlights: Bryce Kinsler (now the proven "real deal" at quarterback), 19/26, 326 yards, 4 TD tosses, no INTs; John Leonard, 12 catches for 189 yards, 3 touchdowns – his fifth consecutive 100 yards+ receiving game; fullback/running back Cameron Larson, seven carries for 66 yards and 3 TDs; and sophomore cornerback Matt Hartlen (who also holds for placekicker Nick Miller), 3 INTs, including a 22-yard runback for the final Falcon TD.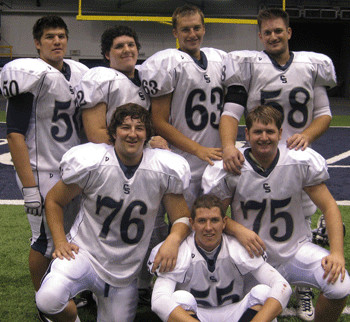 For the "objective" record: at 4:28 of the 2nd period, "The Protectors of Bryce" finally gave up their first sack. Don't let that happen again, guys!

Closing with congratulations to Varsity practice call-ups: freshman Joe Kuhlmann, sophomores Cruz Basciewicz, Preston Holding and Dylan Hasse.

Falcon counterparts of "Hogs!" "O" linemen celebrate their game ball. (Back, l-r) Saul Monteon, Parker LaRue, Andrew Miller, Co-Capt. Alex Yazdi; (front, l-r) Victor Gutierrez, Landon Weaver; Chris Noel (foreground) gave this group a little class!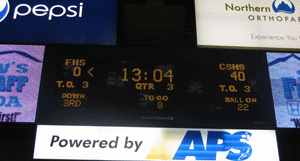 With Falcons up, 40-0, at the half, Sonoran News, altitude-dizzy and fighting the onset of a bad cold, was ready to re-board "The Falcon Express" for the ride home. Thanks to John and Christine Leonard for generously hosting this writer.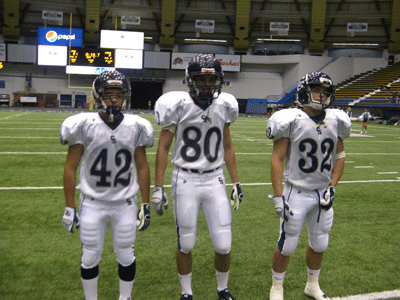 Head Coach Chad DeGrenier recognized three hard-working Falcons by naming them game captains: (l-r) seniors Matt ("Meesh") Michalizysen, Gunner Black and junior Cameron Larson, who scored three TDs in 61-0 runaway, Oct. 1.

Photos by Pete Mohr