BY LINDA BENTLEY | SEPTEMBER 29, 2010
Taste of Cave Creek promises good times during economic downturn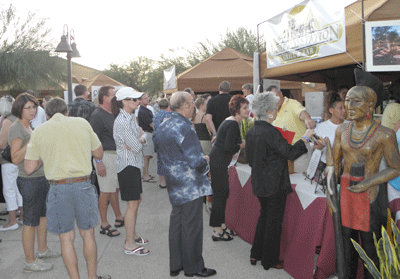 Stagecoach Village is the place to be Sept. 29 and 30 to experience A Taste of Cave Creek. Money may be tight, but the town of Cave Creek, participants and the event's sponsors have pledged to make this year's event the best ever. Photos by Linda Bentley

CAVE CREEK – Delving into his alter ego as a party planner, Town Manager Usama Abujbarah has been busy taking care of the last-minute details for A Taste of Cave Creek, which, after listening to feedback from participants in last year's event, was expanded to two days.

Although money is tight and it costs approximately $60,000 to put on the event, Abujbarah said generous donations from numerous corporate sponsors will make the event a success.

John Ford, director of customer relations for Rural/Metro, said the event is important to the town and Rural/Metro, which donated $2,500. Rural/Metro also provided two large tents, volunteers, and will have an engine and crew on standby during the event.

Attendees will have a chance to taste specialties from a number of Cave Creek's battling bastions of barbecue along with more and less exotic fare from the area's fine eateries.
Live cooking shows nightly will feature Mad Coyote Joe at 6 p.m. Aaron Geister, Tonto Bar and Grill, at 7 p.m.; and Kevin Binkley, Binkley's and Café Bink, at 8 p.m.

Cruz Tequila, domestic and foreign wine tasting, and a craft beer garden will be on hand to help wash things down.

The Sonoran Arts League will be holding an exhibit and sale with live music both nights – jazz on Wednesday and country/rock on Thursday.

Parking is available at the center of town behind the post office, where people can hop a free shuttle to Stagecoach Village.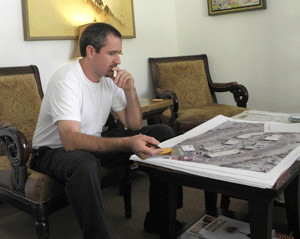 Kevin Binkley, of Binkley's and Café Bink, pictured in Town Manager Usama Abujbarah's office going over last-minute details before last year's event, will be doing a cooking show at 8 p.m. on both nights of this year's event.