SEPTEMBER 29, 2010
Obituary
Ronald G. Stoner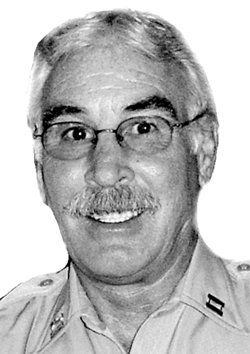 Born June 9, 1946, in Philadelphia, PA, passed away peacefully surrounded by his loved ones on September 11, 2010, after a heroic, courageous, long battle with cancer.

Ron was a man of honor and integrity who served his country in the Vietnam War. In 1969, following his service in the Air Force, he began his career with the Maricopa County Sheriff's Office, where he was assigned to many different divisions, some of which were Accident Investigation; Narcotics; Lake Patrol and Aviation. He was known by his fellow officers as being a little crazy and unique. He was rough and tough when he needed to be, but was a very compassionate person. Throughout his career he was respected as a remarkable officer, outstanding leader and dedicated to serving the people of his community. His dedication extended beyond the people of his own community to those of others, as he traveled to serve the communities that were devastated by Hurricane Katrina and Rita.

He retired with the rank of Captain in 2006, after 37 years of service.

Ron was a devoted, compassionate, loving husband and step-father. He had a wonderful sense of humor and wit. He had a wealth of knowledge on a broad range of topics and relished learning about new ones; and his many life experiences gave him deep and thoughtful wisdom. He delighted in sharing these gifts with the people around him; and everyone loved to listen when he told his stories. He never met a stranger and was a loyal and devoted friend to all who knew him.

He left many memories, as he loved to take pictures of his family and all of his travels. He will be tremendously missed and remembered forever by all who loved him.

Ron is survived by the love of his life, his wife, Cheryl; his step-daughter, who he adored and thought of as his own, Lynsi Diedrick (Joey); two children from a previous marriage; in-laws, Kelly and Rita Clark; mother, Sheila Stoner and brothers Danny Stoner (Marie) and Gary Stoner (Joanne), who reside in Philadelphia. He was preceded in death by his father, Roy Stoner.

There will be a memorial service to celebrate his amazing and so deeply treasured life at 11 a.m. on Saturday, Oct. 2 at Saint Joan of Arc Catholic Church (3801 E. Greenway Road, Phoenix).

The family encourages contributions to Hospice of the Valley (Eckstein Center) or standup2cancer.org in lieu of flowers.