BY LINDA BENTLEY | SEPTEMBER 29, 2010
Goldwater Institute files suit against Coconino County Recorder
Poll worker told plaintiff to change shirt, turn it inside out or 'go out and get a jacket' to cover the message on her T-shirt before voting

PHOENIX – On Sept. 20, Attorney Clint Bolick of the Scharf-Norton Center for Constitutional Litigation at the Goldwater Institute filed a complaint against Coconino County Recorder Candace D. Owens on behalf of Diane Wickberg, who was told she needed to change her T-shirt, turn it inside out or put on a jacket to cover it up before voting.

On Tuesday, May 18, 2010, Wickberg went to her designated polling station at the Bethel Baptist Church in Flagstaff to vote in the special election.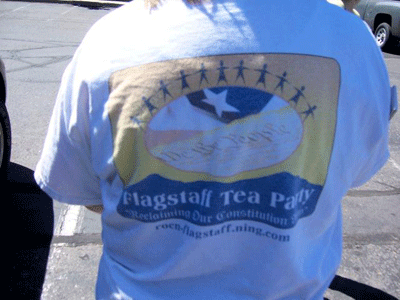 Wickberg was wearing a white T-shirt emblazoned with "We the People," a depiction of the U.S. flag and Constitution and the words "Flagstaff Tea Party – Reclaiming Our Constitution Now."

Wickberg was wearing the shirt, as she does every Tuesday, which is when the Flagstaff tea party meetings are held.

According to Wickberg, the Flagstaff tea party is a local, decentralized, non-partisan, civic organization that does not endorse candidates or ballot measures.

When Wickberg checked in at the polling station by showing her driver license and signing the register, a poll worker told Wickberg she must change her shirt, turn it inside out, "go out and get a jacket" or otherwise cover it with another article of clothing before she could be given a ballot.

The complaint asserts that another poll worker warned Wickberg "in a loud voice to change or cover her shirt, stepping in front of her and invading her personal space in an intimidating manner."

Wickberg said she was "shocked and intimidated" by the poll worker, whom she said made her feel as though she had done something wrong and the police would be called if she didn't comply.

After harassing her, the poll workers eventually advised Wickberg she could vote without having to cover her shirt only because no other voters were present.

When she returned home, Wickberg called the Coconino County Recorder's Office and explained what transpired to Owens.

Owens responded by saying, "[O]f course you were told to cover up … it's a political statement … I don't know what your tea party shirt looks like but clearly the tea party has an agenda."

Additionally, Owens warned Wickberg if she wears the tea party T-shirt again, she will not be allowed to vote, while recommending that she instead request an early ballot instead of voting in person the next election day.

On June 2, Bolick sent correspondence to Amy Bjelland, Director of the Elections Division of the Arizona Secretary of State (SOS) and Owens.

The SOS, as the state's chief election officer, "prescribes rules to achieve and maintain the maximum degree of correctness, impartiality, uniformity and efficiency on the procedures for early voting and voting."

Bolick's correspondence described the incident at the Bethel Baptist Church polling station involving Wickberg, cited applicable state and local electioneering rules and reasons why Wickberg's shirt did not constitute electioneering.

His letter also requested Wickberg be provided an assurance within 30 days that she would not be turned away from her polling place for wearing her tea party T-shirt the next time she votes.

On June 17, Owens responded by acknowledging the incident and stated, "Our offices face the difficult task of preserving First Amendment rights and enforcing statutory prohibitions on electioneering, displaying political material and influencing others in the polling place.

"Often these situations are not clear-cut and require consideration of all the facts. We take this situation seriously and we will do our best to effectuate the Constitution and the laws of Arizona."

However, Owens provided no assurances to Wickberg that she would not be turned away from the polling place.

Bjelland responded on July 1 to say she "took the opportunity to review and discuss the matter" with Owens and determined "the shirt did not attempt to persuade or influence voters to vote for or against a particular candidate, party or proposition in the election."

She went on to say, "While we support our county election workers wherever possible, our first obligation is to the voters of Arizona."

On Aug. 2, Owens and Bjelland sent correspondence to Bolick stating they would be unable to provide any assurance that "wearing 'tea party' apparel will always be permitted at the polls … because every election is unique and every evaluation of a claim of electioneering must be fairly analyzed in the context of each election."

The letter continued, "If a candidate posts political signs or issues direct mail pieces that read 'tea party candidate,' then wearing a shirt to the polls that says 'tea party' could be construed to be advocacy in support of or opposition to a candidate."

On Aug. 24, 2010, Wickberg went to her same designated polling station to vote in the state-wide election wearing the same tea party shirt that she wore on May 18.

The circumstances were the same as the May 18 election in that there were no "tea party" candidates on the ballot or candidates or ballot measures endorsed by the Flagstaff tea party.

Wickberg signed in and while waiting to be provided a ballot, one of the poll workers looked at Wickberg's shirt and told her her shirt was not allowed in the polling place.

Wickberg advised the worker she had a letter from the SOS about her shirt, to which the poll worker responded with something to the effect of: "All I know is that I was told that tea party shirts needed to be covered up."

Wickberg put on a sweater that covered up her shirt so she would be allowed to vote and was admonished as she left that if she wore that shirt again she would not be allowed to vote.

According to the complaint, other voters who wore tea party t-shirts to other Coconino County polling station were permitted to vote without being required to cover their shirts.

The complaint claims Owens, "either by evil motive or intent, or through reckless or callous indifference to the federally protected rights of plaintiff, harassed, threatened, silenced and chilled" Wickberg's rights to freedom of speech and association by improperly enforcing electioneering law despite the SOS's conclusion that "the shirt did not attempt to persuade or influence voters to vote for or against a particular candidate, party or proposition" during the May 18 election.

The complaint also claims Owens retaliated against Wickberg when she attempted to vote in the Aug. 24 election and continued to direct her employees to do the same.

Coconino County voters may wish to note the office of county recorder is an elected position.