BY LINDA BENTLEY | SEPTEMBER 29, 2010
Wife of slain rancher in serious condition after being hit by drunk driver
Records show it was not Saucedo's first hit and run while driving under the influence
DOUGLAS – Saturday evening, six months, almost to the day, since Douglas Rancher Rob Krentz was murdered by a suspected illegal alien on his ranch, his widow Sue Krentz and a friend, who was not identified, were hit by a vehicle at around 6 p.m. as they crossed the street.

Krentz was air-evacuated to University Medical Center in Tucson where her family reported her to be in "critical but stable condition," suffering from internal bleeding, a broken pelvis and leg.

Her friend was also reported to have suffered a broken pelvis but there was no word as to the extent of her injuries.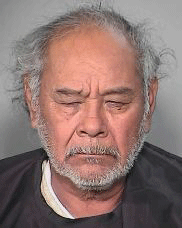 The suspect, Ramon Parra Saucedo, 66, who fled the scene, was arrested a short time later and charged with DUI and two counts each of endangerment aggravated assault in connection with the hit and run incident.

Saucedo was being held at the Cochise County Jail in lieu of $5,000 bond.

Records indicate this was not Saucedo's first hit and run while driving under the influence.

In fact, Saucedo pled guilty to DUI and hit and run with vehicle damage in July 1992. A sentence was imposed, which included payment of a fine.

However, in January 2007, the court noted Saucedo had failed to pay and issued a warrant for his arrest.

In December 2007, Saucedo was able to have his hit and run charge "purged and sealed" by the Douglas Justice Court.

By November 2008, the court noted he had still failed to pay and ordered Saucedo to perform community service.

Proof he completed his community service was provided to the court in December 2008 and, the following January, the court suspended the fine and credited Saucedo as meeting his obligations.

In September 1992, Saucedo was charged with interfering with a judicial proceeding,
In November 1995, he pled guilty to driving on a suspended license, no proof of insurance and failure to drive in one lane/unsafe lane change. Again, Saucedo signed up to make time payments but failed to pay his fines.

Saucedo apparently performed community service to clear up a rash of unpaid fines and was credited with community service work to get his fines suspended.

In February 1998, Saucedo pled guilty in Bisbee Justice Court to a charge of no mandatory insurance and signed up for time payments.

One year later the court purged and sealed Saucedo's record.

In November 2005, Saucedo was cited for a child passenger restraint violation, to which he pled guilty.

In April 2009, Douglas Municipal Court purged and sealed his record.

In October 2008, Saucedo pled guilty to a stop sign violation and failure to carry vehicle registration card. In January 2009, the court docket indicates Saucedo was apparently able to get his fine suspended in this instance as well.

In November 2008, Saucedo pled guilty to failure to yield from a stop sign.

Saucedo was, once again, simply able to perform community service work.

It does not appear Saucedo will get off so easy on this hit and run, but only time will tell.

Esky Carillo, the woman who called 911 following the incident, quoted Saucedo who said afterward, "I can see nothing because the sun was in my eyes."

It wasn't made clear if Saucedo is a legal resident and Cochise County Sheriff's Office Public Information Officer Carol Capas did not return our phone call.