SEPTEMBER 22, 2010
County Parks offer free camping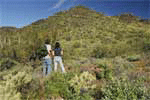 PHOENIX – It's back! With more families opting to vacation closer to home this year due to a sluggish economy, the Maricopa County Parks and Recreation Department has decided to bring back the "free camping" campaign. Beginning Friday, Oct. 1, visitors who pay the camping fee for one night at a desert mountain county park will receive the next night of equal value for free.

"This is a wonderful opportunity for residents to experience the beauty of their County parks. The parks are located on the outskirts of town and provide access to some of the most breathtaking scenery and views found in the Sonoran desert," stated Chairman Don Stapley, Maricopa County Board of Supervisor, District 2.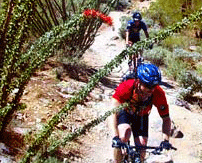 "Parks will honor this offer until Wednesday, Nov. 10 and we've asked our interpretive rangers to offer additional nighttime programming opportunities and activities that are fun for the whole family," said R.J. Cardin, Maricopa County Parks and Recreation Director.

"In addition to our camping promotion, Parks will be unveiling a new reservation system this winter. Our visitors have been asking us for several years for a system that would allow them to reserve a campsite prior to arriving at the park. Once the reservation system is in place, we'll be able to offer this service," added Cardin.

Participating parks include:
1. Cave Creek Regional Park. Located north of Phoenix, this park offers the illusion of being miles away from civilization. The campground has 38 individual developed campsites.
2. Estrella Mountain Regional Park. Located near the meeting of the Gila and Agua Fria Rivers in the southwest Valley, the park includes a large wetland area. The park also offers seven developed campsites.
3. McDowell Mountain Regional Park. Nestled in the lower Verde River basin, this park is a desert jewel in the northeast Valley. This park has 76 developed campsites that are perfect for RV or tent camping.
4. Usery Mountain Regional Park. Located on the Valley's east side, this park is located at the western end of the Goldfield Mountains, adjacent to the Tonto National Forest. The park offers 74 individual developed campsites which can accommodate either an RV or tent camping.
5. White Tank Mountain Regional Park. At nearly 30,000 acres, this is the largest regional park in Maricopa County. Most of the park is made up of the rugged and beautiful White Tank Mountains on the Valleys west side. The park offers 40 individual semi-developed campsites.

At approximately 120,000 acres, Maricopa County is home to one of the largest regional park system in the United States. The parks are located throughout the county and are all within a 45-minute drive from downtown Phoenix. Some restrictions do apply. To learn more about this offer or a County park, visit www.maricopa.gov/parks or phone 602-506-2930.
Restrictions:
1. Guests who arrive after the entry station has closed must write "buy one, get one free" on the front of the envelope to receive the free night offer. Refunds will not be given to individuals who do not mention the promotional offer on their envelopes or at the entry station.
2. All campsites are available on a first-come, first-served basis and reservations are not accepted.
3. Offer not valid for group campground reservations or unit fees.
4. Limit of one free night per family, household and/or group in a seven day period (Monday through Sunday).
5. Rain checks will not be issued if space is not available.
6. Offer not valid at Lake Pleasant Regional Park.
7. Offer valid Friday, Oct. 1, through Wednesday, Nov. 10, 2010.