BY PETE MOHR | SEPTEMBER 22, 2010
Meet the Football Falcon seniors …
Connor Henry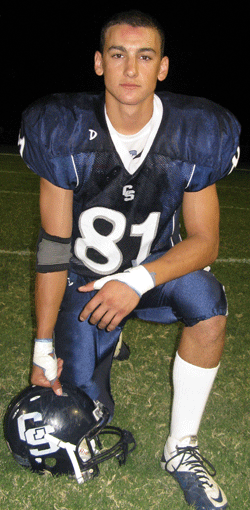 I first met pole vaulter Connor Henry in the early afternoon of last May's 4A-I State Track Championships at Mesa Community College. In the infield of Briggs Stadium, the only relief from the blazing sun was offered by the tilted umbrella of his vaulting coach, Paul Markham. Even though I dozed intermittently (as Connor good-naturedly reminded me in our interview last Saturday morning!), I didn't miss his conditioning (he's lithe as a panther), his focus and his determination. Each is a Connor Henry "signature."

That afternoon, Connor vaulted 13'9", his Personal Record (PR), earning him 6th place. As soon as football season ends, he'll be working hard with Coach Markham again. His goal? Breaking Gus Meyers' [CSHS '09] school record of 15.' But first comes the goal he shares right now with his Football Falcon teammates: winning the 2010 4A-I State Championship.

"I have a lot of faith in this team," he quietly assured me. "We get it done when we need to. I'm feeling really confident about everything."

My devil's advocate question: "Can you beat Saguaro, at Homecoming, Oct. 15?" That query seemed to energize him. "Of course! No doubt! What we have to do is not think about what we did last year. Let our blocked extra point win stay in their heads. Our coaches will have us focused on the game we'll be playing."

Connor, a native Phoenician, was born April 7, 1993. He is the older of Rio Verdians Scott and Dora Henry's two children. Younger sister Megan, 15, is a Falcon sophomore. As a rising freshman, having graduated from Copper Ridge Middle School, Connor felt "new … needing to be a part of something at Cactus Shadows. Encouraged by my parents, I decided to give football a try. I fell in love with it!"

As in "running out of our locker room with my teammates before each kickoff … being a special teams player on kickoffs … all the fun that we have! And, in a strange way, I think I'm going to miss the practices. I'll remember those experiences for the rest of my life!"
You see, as he explains, Falcon Football, even at practices in August's brutal triple digits, "has made me stronger – physically and mentally. I've learned about commitment … dedication. Now I know, deep down, that whatever I may be trying to do, I can always find a way to give more. Always."

At defensive end on the Falcon depth chart, Connor is listed behind his best friend, Cody Wendel, and junior Tommy Pritchard. He may also play at middle linebacker. Wherever he may line up, Connor Henry "will do everything I can to help make the team better – to set the bar high for the younger players coming up." For the team, those are his personal goals for this season, now three games underway.

A more-than-solid student (3.9 GPA, Spanish Honor Society member), Connor "loves everything outdoors!" He recalls a close encounter with a bear ("It stole my fish!") on the Apache Reservation's Black River, and the two-week fishing trip to North Dakota and Minnesota he and Cody Wendel took this summer.

The goals-oriented Connor Henry aims to attend college either on an NROTC scholarship or as a member of the U.S. Marine Corps Officer Program. And should he clear 15,' there's also the possibility his vaulting might earn him an athletic scholarship.

Wherever life may take him, Connor Henry, quietly and determinedly, will be a leader. And come next spring, I promise to be wide-awake when he pole vaults to a new CSHS record!