BY PETE MOHR | SEPTEMBER 22, 2010
Kinsler to Leonard and Larson: Falcons 'kill' Shadow Mountain, 45-21 on Sept. 17
Twenty-one point 2nd quarter outburst "gores" Matadors!
FALCON STADIUM – Quad-Captain senior John Leonard flat-out muffs the first two passes quarterback Bryce Kinsler put in his mitts. What-in-the-heck was going on?! Not to worry. His "drops" just made "Big, Bad John" angry – and more focused than he always is.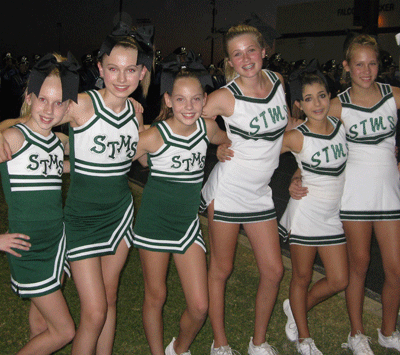 "Future Falcons Night" brought out STMS cheerleaders to help CSHS varsity cheer lead Falcons onto the field. (l-r) Amanda Harrison (7th grade), Marietta Perkins (7th), Allie Capozello (7th), Carlye Robertson (8th), Ella Asterino (7th), Brooke Bennett (7th). Thanks to STMS Head Cheer Coach Michelle Wetzel for the postgame IDs!
On the Falcons' second possession (after a Will Bowers fumble recovery inside the Shadow Mountain 40), Leonard's catch put the 'Birds 1st-and-10 at the Matador 27. After Nic Erickson got two yards, Kinsler found Leonard slanting into the right end zone for a 25-yard TD strike. By the end of the 1st quarter, Leonard had put up six catches for 100 yards, including that first touchdown. For his three games' work: 31 catches, 441 yards, seven touchdown receptions.
Three John Leonard games, each equally outstanding, don't a season make. When the Falcons play Dec. 4 for the 4A-I State Championship, there'll be ten more games in the books; and Leonard's super-conditioned frame, perhaps a little on the slender side, makes him a target for head-hunting linebackers and defensive backs – if they can catch him! And when they do, he doesn't go down easily.
Ssssh! Don't want to jinx this talented receiver; but he's on pace to break Kyle Watkins' [CSHS '07] single-season records (set in the 2006 unbeaten State Championship season) for most catches, most touchdowns and total receiving yards.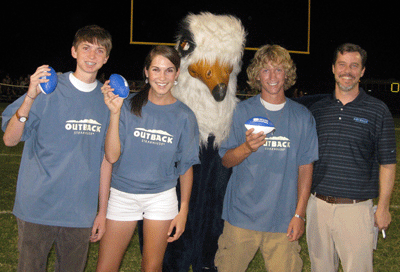 The kick is g-o-o-d! Contestants in last Friday night's Outback Steakhouse halftime field goal contest were
(l-r) Steven Kralovec (JR), Girls Cross Country Captain Kate Accola (SR) and Preston Holding (SO). Acccola and Holding made their 15-yard kicks, good for a dinner-for-two at Outback (Scottsdale 101). Kralovec was just wide left. Cheering on this trio were the Falcon mascot and Demi-Jon Merlina, Outback proprietor-manager.
Comparisons with Watkins, as a total player, need to stop – now! Why? Because unless "Coach D.", Watkins' Mom, Debbie Gibson, or Falcon Assistant Coach and Statistician Jake VanDerStad advise me otherwise, I don't believe "The Wild Horse" ("Ain't nobody gonna stop 'The Wild Horse'!") ever played a down on defense. Leonard's defensive "line" against Shadow: two INTs, the first, run back 60 yards for the Falcons' fourth touchdown, and a highlight film hit that caused a drive-stopping Matador fumble.
Congratulations to John Leonard for a single-game performance he may never equal; but you can count on him to damn-sure try!
And what about that sophomore quarterback, "Cool Hand Luke"? Sorry: I mean, of course, Bryce Kinsler. I won't attempt to embellish his numbers against Shadow: 20 of 29 attempts, good for 360 yards, four touchdowns (two each to Leonard and fullback Cameron Larson), no INTs. No, I'm going to fall back upon the rhetorical exclamation to me by an (anonymous) assistant coach during a lull at last Saturday morning's practice: "What do you think about Bryce?!" he appropriately challenged. "He's phenomenal! Nothing scares him!"
I concurred. Then my football memory flashed back to my sophomore year at Montgomery, Alabama's Sidney Lanier High School, where I watched Bart Starr, a senior, lead the "Poets" to an undefeated season and the (then) "unofficial" State Championship.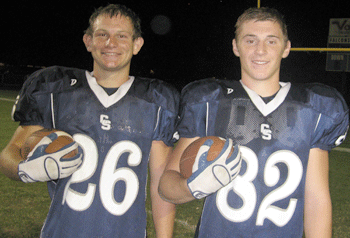 Game ball winners from Falcons' 45-21 victory over Shadow Mountain were receiver Co-Captain Max Gersh (l), offense, for his key "in-traffic" catches, and free safety Quad-Captain John Leonard, defense: two INTS (the first, for a TD) and a crushing 3rd quarter hit that produced a Cody Wendel fumble recovery, killing a Matador drive. Leonard also had two touchdown receptions from quarterback Bryce Kinsler. "Big, Bad John" will likely be selling advance tickets to the Homecoming Dance on Oct. 16. As a two-way player, he's right up there with the best of 'em!
Bryce, 5' 10" as a sophomore, may not grow to Bart Starr's senior height of 6'1" (or was it 6'2"?); but, at this very early point in Bryce Kinsler's career, I see in this talented young athlete the same quarterback's intelligence, the same calmness, the same modesty, and very close to the same physical skills that would advance Bart Starr, Green Bay Packers legend and Super Bowls I and II MVP, into the NFL Hall of Fame. The above "high school" comparison is not made casually.
How forever sad that Bart Starr and his partners, who included World War II Marine fighter pilot ace and former American Football League Commissioner Joe Foss, having worked for almost three years to secure a new NFL franchise for Phoenix, were "sacked" by Bill Bidwill's out-of-the-blue arrival in The Valley. But, as I wrote for
Sonoran News
in mid-August 2001, economically-devastated and politically-reeling Phoenix, desperate for any "good news," had no viable choice but to do business with Bidwill and his "birds (the Cardinals) in hand."
At that spring of 1988, the Cardinals would have been valued at a maximum $100 million; today, closing in on, if not exceeding, $1 billion! And yet, before the start of the 2009 season, Kurt Warner had to flirt with the San Francisco 49ers to leverage from "Mr. B." the new contract he had more than earned. "Leopards" can't change their "spots" – nor the Cardinals' scion, his "feathers!" Back to our Falcons.
I write, in closing, about courage – and the desire to play football. Were you in the West Stands, Friday night, Oct. 23, 2009, Falcons vs. Sunnyslope, when Cameron Larson, after suffering a concussion, was helicoptered to John C. Lincoln Hospital? A beyond fearful moment, especially for his parents, Dan and Terri Larson. I was certain that "Mr. O.T." (as I'd nicknamed him for his determined overtime touchdown rushes against Greenway and Paradise Valley) would never play football again. W-r-o-n-g!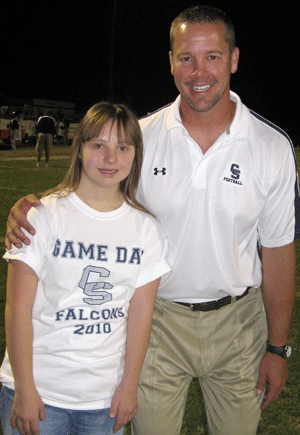 At 3:48 of last Friday night's second period, fullback Cam Larson took a swing pass from Bryce Kinsler and raced 63 yards down the west sideline with nothing but the Carefree Highway in front of him!
He would score again with only 13 seconds left in the 1st half to put the Falcons comfortably up, 34-7. (Make that 35-7 after Nick Miller's fifth extra point.)
A belated "Welcome back!" "Mr. O.T."! Your Falcon coaches, teammates, fellow students and this writer hail your courage!
A very special 'water girl': Head Football Coach Chad DeGrenier met Miss Jordan Harter at a Special Olympics event some six years ago. Now, at Coach D.'s invitation, Jordan, a CSHS sophomore, is his very special water girl. She is the daughter of Karen and Kevin Gilbert. 'Way-to-go, Jordan!

Photos by Pete Mohr