BY PETE MOHR | SEPTEMBER 22, 2010
Sports briefs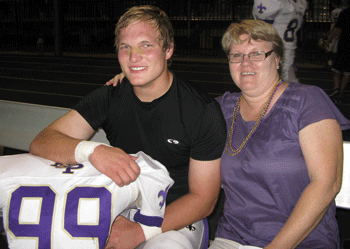 Yes, fans, there is a Notre Dame!
Just ask the Paradise Valley Trojans, blown out, 49-7. At home, by the Saints on Cox-7TV's Sept. 16 "Game of the Week." Photographed by Sonoran News postgame were Notre Dame's defensive end standout and top college prospect, senior Peter Igras, with his triple-proud mother, Claudia (Mrs. Leon) Igras, North Scottsdale. Dad Leon was unavailable for photo. With Falcon "alumna" Monica Barrett now athletic director at Notre Dame, and the consolidation of the two 4A Conference divisions beginning in 2011, this writer hopes for a resumption of the CSHS-N.D. football rivalry – the sooner, the better.
JV Falcons 1st Half Explosion!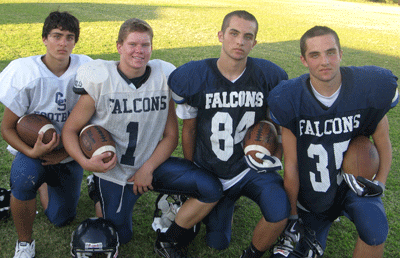 At Shadow Mountain, Thursday evening, Sept. 16, Coach Spencer Grace's JayVees exploded in the early going to lead 46-14 at the break, but grounded themselves in the last two quarters. The Matadors fought back, but the Falcons held on to win, 46-36, their second victory of the season. For the JuniorBirds (l-r), the scoring damage was two TDs by Cruz Baciewicz ("Bah-chev-ich" – you'll be hearing a lot more from this speedster!), quarterback R.J. Anderson (one TD); and the Folts twins: Connor (three TDs) and Cody (one TD). JV plays at home, Thursday, Sept. 23, vs. Paradise Valley, 6 p.m. kickoff.
'Donít tread on Bryce!'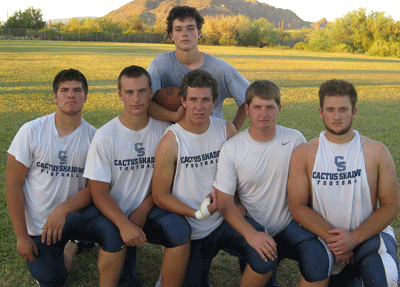 Cut from the same cloth as the Revolutionary War serpent flag, CSHS Assistant Coach Jerry Boat's "O" line could unfurl their own banner, emblazoned with the Falcon logo beneath the headlined slogan embodying their vow to protect their sophomore quarterback, Bryce Kinsler. Against the Shadow Mountain Matadors, Kinsler (rear, with ball) was 20 of 29 for 360 yards, four touchdowns, no INTS. He'd modestly credit that outstanding performance to his five bodyguards (l-r): ORT Saul Monteon ["Sah-ool Mon-tee-own"] (JR), ORG Andrew Miller (SR), C Chris Noel (SR), OLG Landon Weaver (JR), OLT Co-Captain Alex Yazdi (SR). In the Falcons' first three complete games (Cienega, Greenway, Shadow Mountain): twelve quarters, zero sacks! From the "Alabama" ballad (1983), "(That's) Close Enough to Perfect for (Coach D.)!" Keep on keepin' on, fellas! Bryce, take these guys out to dinner!
Babybirds first victory flight!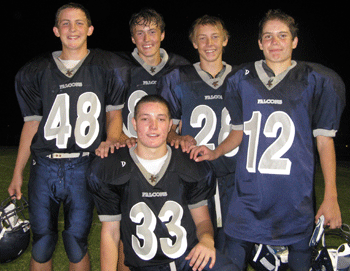 Running back Joe Kuhlmann (foreground) broke long runs for three touchdowns (his 6th, 7th and 8th of the young season!), and teammates (l-r) Austin Kiesling, Dylan Babbitt, Tyler Kirby and complete game quarterback "Bam" Larson scored one each, as Coach Jerry Cumber land's Freshman Falcons broke into the win column, Sept. 15, with a 49-36 victory over the visiting Shadow Mountain frosh. Congratulations, Guys!