BY LINDA BENTLEY | SEPTEMBER 8, 2010
For Goodness Sake – another burglary
Thieves also hit town's water utility yard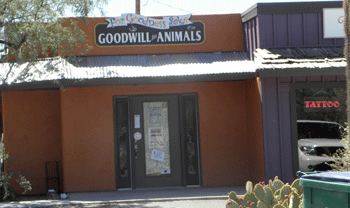 On July 4, Chris and Paty Williams had two trailers full of donated merchandise stolen from For Goodness Sake, their thrift shop on Hidden Valley Drive. Burglars hit their store again sometime between Sept. 1 and 2, making off with a computer, cash and other items.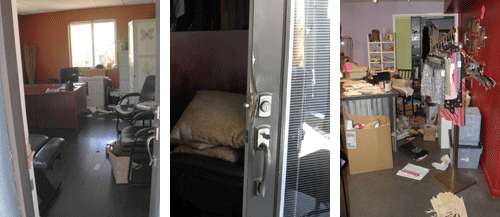 CAVE CREEK – Following the July 4 robbery of two trailers packed with donated merchandise from outside their thrift shop For Goodness Sake on Hidden Valley Drive, Paty and Chris Williams announced they were moving to a new location on Cave Creek Road.

However, before they were ready to pack up and move, thieves struck again late Wednesday night, Sept. 1, or early Thursday morning, this time breaking into the store and office with a crowbar, making off with a computer, cash and some merchandise.

When asked when they were moving to their new location, an upset Paty Williams replied, "Not a moment too soon."

The burglars took funds from various collection jars in the store, one of which, ironically, contained funds to help pay for the stolen trailers from the July incident, including one the Williamses had borrowed from a friend.

The thieves cut the lock on the gate at the rear of the store with bolt cutters and used a crowbar, which they left behind, to break in to the shop and office.

Paty Williams, who noted the burglars also took a Pepsi from the fridge, said she has since seen their trailer going down Cave Creek Road with a load of hay and couldn't help but wonder if the person using it was the thief or if the trailer was recently purchased from the person who stole it.

Burglars also hit the Cave Creek Water Utilities yard, located next door to the thrift shop, on Wednesday night.

Public Works Foreman Fred Izer said some hand tools had been removed from his truck.

According to Water Distribution Supervisor Dennis Charles, when employees arrived at work Thursday morning they found a broken gate hasp, which he said appeared to have been broken by "beating on it for a long time" with hand tools and could have only been done from inside the yard.

He also said tool boxes had been removed from a couple of trucks and were found sitting on the ground with the tools still inside.

It wasn't clear whether the utility yard may have been broken into first and tools taken from there used to burglarize the thrift shop.

Anyone with information about any of these burglaries should contact Maricopa County Sheriff's Office at 602-876-1011.



Burglars also hit the Town of Cave Creek Water Utilities yard on Hidden Valley Drive. Water Distribution Supervisor Dennis Charles said tool boxes were removed from a couple of the trucks and were sitting on the ground when they arrived at work on Thursday.
Photos by Linda Bentley