BY LINDA BENTLEY | AUGUST 25, 2010
Carefree bank robber pleads guilty to robbing four banks
Yanni was a star running back in high school with the Steubenville Catholic Central Crusaders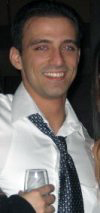 PHOENIX – Last week, Michael Yanni, 26, pled guilty to four counts of bank robbery for robbing banks in Scottsdale, Phoenix and Carefree in 2006 and 2007.

In 2008, Scottsdale Police Department (SPD) received a message on its anonymous tip line identifying Yanni as the bank robber. Detectives from SPD and the FBI's Bank Robbery Task Force followed up the lead and ultimately arrested Yanni.

In October 2009, Yanni was indicted on eight counts of bank robbery, which included Compass Bank, 7155 E. Thunderbird Road, Phoenix (on two separate occasions); Compass Bank, 7315 E Osborn Road, Scottsdale; National Bank of Arizona, 7202 E Carefree Drive, Carefree; Washington Federal Savings, 8120 N. Hayden Road, Scottsdale; Western Security Bank, 7401 E. Camelback Road, Scottsdale; Los Padres Bank, 10555 N. 114th Street, Scottsdale; and M&I Bank, 7820 N. Cortaro Road, Marana.

In his affidavit, FBI Special Agent Lance Leising described the events that took place during each of the robberies.

According to Leising, during the first Compass Bank robbery, the suspect approached the teller, produced three $5 bills, requested change and handed the teller a note.

Although the teller could not read the entire note, it read something to the effect, "Please keep your hands above the counter. Don't say anything." The bank robber then pointed to the strapped money in the teller's drawer and said, "I want that right there on the right that's standing up."

He took the money and fled the bank in a 1990s model blue or green Ford Mustang driven by a second suspect.

He robbed the same bank and same teller six months later.

At the time, the suspect was described as a white male, age 18-23, 5'9"-6' tall, 145-150 pounds, wearing a dark-colored bandana, mirrored sunglasses, a red short-sleeved shirt with a design on the upper chest and Band-Aids on every fingertip.

After reviewing bank surveillance photographs, investigators believed the suspect was the same person who robbed the bank in June 2006.

The suspect became more aggressive in subsequent robberies, whereas he jumped on the counter and shoved the teller.

The descriptions of the suspect by witnesses indicated they were most likely the same person.

Then, on Dec. 19, 2009, SPD received an anonymous tip that said, "This guy was bragging about robbing two banks in Scottsdale. One was in Cave Creek/Carefree area and one bank in Tucson. He approached the teller with a note and made off with the money. Mike Yanni, male, 5'8", 150, black hair, brown eyes, address 10217 E Karen Drive, Scottsdale."

SPD detectives printed out a copy of Yanni's Arizona Identification Card photograph taken on Nov. 13, 2008 and a jail booking photo taken on Nov. 12, 2008 and determined both photographs closely resembled the bank robbery suspect.

In June 2009, Yanni was arrested for shoplifting at the Target store located at 15444 E. Frank Lloyd Wright Boulevard, Scottsdale.

He told officers that he was having money problems and was unemployed.

In addition to investigating his addresses, investigators believed Yanni's contact with law enforcement supported their belief he was also the eight-time bank robber.

Leising stated the November 2008 arresting officer remembered Yanni appearing very nervous during the stop and that one of Yanni's hands was scarred and deformed.
According to Leising, the scarring would be "consistent with the dye packs exploding in the bank robber's hands during two of the bank robberies (when the dye packs explode, the eruption can cause scarring and burning of the skin)."

Because Yanni closely resembled the bank robber, investigators created a photographic lineup containing Yanni's picture along with five other white males with a similar appearance and showed it to witnesses at each robbery.

Yanni was a star running back in high school with the Steubenville Catholic Central Crusaders in Stubenville, Ohio, where he graduated in 2002.

Leising said at least one victim teller and/or witness at every bank identified Yanni as the bank robber in a photo lineup containing his picture.

In October 2009, investigators contacted Yanni, who, after being read his Miranda rights, waived them and confessed to committing all eight bank robberies.

A conviction for each count of bank robbery carries a maximum penalty of 20 years in federal prison, a fine of up to $250,000, or both. Sentencing is scheduled for Oct. 18 before U.S. District Court Judge Neil V. Wake.