BY PETE MOHR | AUGUST 25, 2010
Correction! Correction! CSHS at Cortez, Thursday, August 26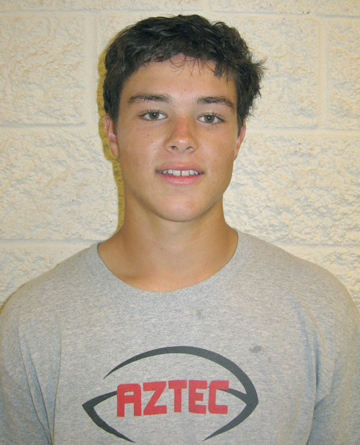 Sophomore QB Bryce Kinsler Photo by Pete Mohr

CSHS – Even before the Falcons open at home against tough (Vail) Cienega, Friday evening, Sept. 3, this writer is already an embarrassing 0-for-2. First, all summer long, I've misspelled the first name of the Falcons' probable starting quarterback: he's B-R-Y-C-E Kinsler – not B-R-I-C-E. Thanks to his Mom, Sue Kinsler, for setting me straight. Bryce, I'm predicting, will be setting opponents "straight" in his first season as the Falcs' signal-caller.

He's nursing a bruised thumb on his (right) throwing hand, but told Sonoran News after Monday's practice he expects to see action when the 'Birds travel to Cortez for a controlled scrimmage against the Colts, "kickoff" at 6 p.m. I apologize to Falcon Fans for muffing the site: it's at Cortez, not Falcon Stadium.

"Hit somebody – else!" And after practice-laboring in these (unprintable) triple-digit temps, you can understand why the 'Birds are more than ready to "get it on" with a real-live opponent. Head Coach Chad DeGrenier will get a look at his trio of quarterbacks, sophs R.J. Anderson and Matt Hartlen slated to follow Kinsler.

On the Colts sideline will be an "old friend," Cortez Head Coach Jeff Huelster, who coached defensive backs and headed scouting the opposition for the 2006 4A-Division II CSHS State Champions. Huelster graduated to the Colt helm last season from the defensive coordinator position at Thunderbird. Belated congratulations to Coach Huelster.

The following evening, "Coach D." and his staff will scout Cienega "live" (against 5A-I opponent Buena Vista), hoping to find a defensive strategy for holding down (not "stopping") the Bobcats' outstanding running back, Willie Willis. The Falcon "D" already knows they'll have their work cut out for them. Will "The Bradshaw Bad-Asses" show up on opening night? They damn-well better!

To Cortez: I-17 south to Dunlap exit; right on Dunlap to 31st Ave.; Cortez and parking on your left.