BY SHARI JO SORCHYCH | AUGUST 18, 2010
Dolly has a home in Cave Creek
Because of a story in Sonoran News, Dolly, a lovely four-year-old palomino mare, has found a permanent home with Cave Creek resident Doug Smith.

Originally Doug also offered a foster home to Dolly's thoroughbred friend Bob who is healthy and sound but just a little too much horse at this point for the Grapevine Canyon Ranch clients, where they were discovered by Jerry and Cindy Van Sant. The plan was that Doug would keep him and work with him until a home could be found.

Grapevine Canton Ranch transported both horses to Doug's and he is so "stoked" about Bob, he said he will permanently adopt both horses. According to Doug, Bob rides just great and is very well mannered.

The Conquistador Program will continue to do everything they can to support Doug with Dolly and her pal Bob.

Jerry and Cindy Van Sant, who launched the initial search for a home for Dolly, also give continuing support. Sunday, they visited Dolly and Bob at Doug's ranch and brushed them both using some of the items from the pink welcome basket they made for Dolly.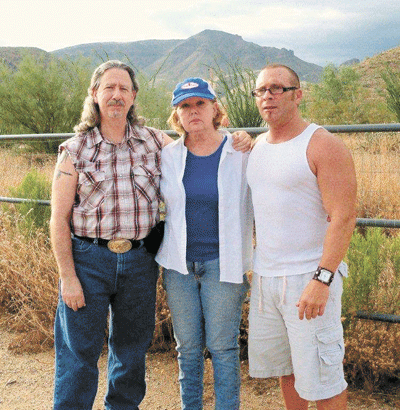 Doug has two mares of his own that are in Wyoming for the summer to escape the heat and come back in the fall. Dolly and Bob will have the best possible forever home with Doug.

"Because of the Sonoran News story, Dolly and Bob have a wonderful home with Doug. Thank you so much. We could not have done it without you," said Dr. Pat Haight of the Conquistador Program.

"Never doubt that a small group of committed people can change the world. In fact, it is the only thing that ever has." Margaret Meade.