BY LINDA BENTLEY | AUGUST 18, 2010
Stealing in the name of Barto?
Freeman lied to MCSO about removing Ray Barnes' signs, despite photo evidence to the contrary
CAVE CREEK – According to A.R.S. 16-1019, it's apparently OK to "knowingly remove, alter, deface or cover any political sign of any candidate for public office" if it's more that 45 days before an election.

However, under 13-1802(A)1 of the criminal code, "A person commits theft if, without lawful authority, the person knowingly controls property of another with the intent to deprive the other person of such property."

If the value of the property is less than $1,000, the offense is a class 1 misdemeanor.
On the afternoon of May 23, Sonoran News Publisher/Editor Don Sorchych placed a couple of Ray Barnes campaign signs on his property along an easement his neighbor Gerald Freeman must use to get to his property.

That just happened to be the same day Freeman was going to be holding a fundraiser for Nancy Barto, one of Barnes' primary opponents for state Senate.

Freeman and Sorchych have developed a Hatfield and McCoy-type of relationship over the years as Freeman has sued Sorchych to try to make Sorchych pay for half of his road improvements on a shared easement. Despite Freeman losing in court, it has cost Sorchych tens of thousands of dollars defending against Freeman who continues to appeal.

In the interim, Freeman got Rep. Nancy Barto to draft legislation that, had it passed, would have created a de facto road maintenance agreement when none was in place, requiring those who share a private easement to pay a pro-rata share of the cost of improvements, as dictated by the easement holder making the improvements.

When the Arizona Association of Realtors caught wind of the proposed legislation, they asserted an effective effort to quash the bill.

So, knowing Freeman was holding a fundraiser for Barto that evening, Sorchych erected two sign on his road.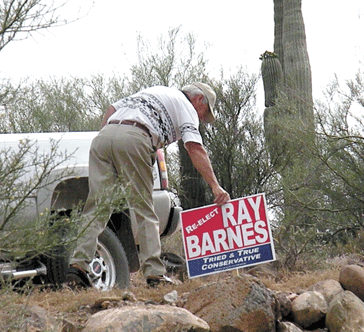 After the first vehicle drove up to Freeman's house, Sorchych, who was watching from his house, said it didn't take long before Freeman raced down the hill in his truck, got out, plucked the Ray Barnes' signs out of the ground and tossed them into the back of his pickup truck. Sorchych took pictures.

Sorchych then erected two more "Re-elect Ray Barnes" signs and resumed watching.
After another vehicle went up the hill, Freeman came racing back down and removed the two newly placed signs.

Sorchych took more pictures as Freeman removed the signs and absconded with them.
Sorchych put up the last two signs and went home for the evening.

By morning, he said they too were gone.

Sorchych filed a complaint with Maricopa County Sheriff's Office, believing it was illegal to tamper with another person's campaign signs.

Apparently that's so, but only if it occurs commencing 45 days before and ending seven days after an election. In this case the primary was still 93 days away, as MCSO Deputy Rowe noted in his report.

According to the incident report, Rowe was dispatched to Freeman's address at approximately 3:45 p.m. that same day on a trespassing complaint made by Freeman.

Freeman claimed he was entertaining several neighbors that evening and Sorchych was sitting in his vehicle near the easement road and was photographing and yelling at Freeman's guests as they drove past his vehicle.

Rowe then met with Sorchych and asked him what he was doing and if he was yelling at Freeman's guests. Sorchych told Rowe he was neither yelling at nor taking pictures of Freeman's guests as they drove past. However, Sorchych told Rowe that Freeman had taken several of Barnes' signs from his property.

During a follow-up meeting, Sorchych explained to Rowe there is an easement along the southern portion of his property that allows Freeman access to his property at the southeast corner of Freeman's property, and showed him pictures of where his property markers are located in relationship to the road and where the signs were placed on his own property.

When Rowe followed up with Freeman on June 19, he asked Freeman if he took the signs. He said Freeman responded, "I didn't take the signs," despite Sorchych having photo evidence of him doing so.

Since the campaign sign law didn't seem to apply, Rowe did not issue a citation to Freeman at that time for removing the signs.

On Aug. 8, however, after speaking to Barnes, Rowe determined the signs Freeman removed from Sorchych's property were valued at $15 apiece and he gave six signs to Sorchych. Under the criminal statute for theft, theft of $90 worth of signs is a class 1 misdemeanor.

And, unlike Barto, Barnes has not amassed a war chest built from special interest donations and considered the theft of his signs significant enough to be willing to aid in the prosecution.

As the photo evidence suggests, Freeman appears to have knowingly taken possession of property not belonging to him.

On Aug. 9, MCSO filed a long-form complaint request for theft with Town Prosecutor Mark Iacovino, who confirmed having received it and would only comment that it was under review.

The complaint names Barnes as the victim, Freeman as the suspect and Sorchych as the witness, along with five photographs as evidence.