BY LINDA BENTLEY | AUGUST 18, 2010
Carefree Town Clerk down for the count?
'None of us want the perception that election law in Carefree
is not applied evenly …'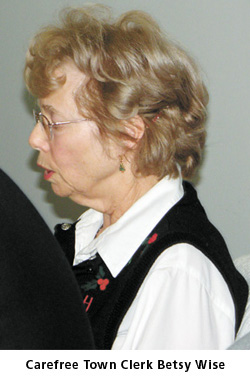 CAREFREE – During the last council meeting, Councilman Doug Stavoe announced he was working on a ballot initiative for council term limits.

Stavoe subsequently contacted Town Clerk Betsy Wise to find out how many signatures were required to get an initiative on the ballot.

When Wise told Stavoe he would need 398 signatures, he asked why he needed so many when Proposition 407, an initiative to change the wording for the direct election of mayor, qualified for the ballot with 351 signatures.

Apparently, Wise told the Committee for the Direct Election of Mayor only 255 signatures were needed for the initiative.

Stavoe couldn't help but wonder if Wise provided a less stringent set of initiative requirements to those who approve of the status quo in Carefree while requesting a higher threshold from anyone that seeks change.

If that's not the case, Stavoe stated, the only other conclusion one can draw is incompetence.

According to Town Code 2-6-2(A), "The total number of registered voters qualified to vote at the last municipal election, whether regular or special, immediately preceding the date upon which any initiative petition is filed shall be the basis upon which the number of qualified electors of the town required to file an initiative petition shall be computed." And, according to the Arizona Constitution, 15 percent of the qualified electors may propose measures on town matters for an initiative.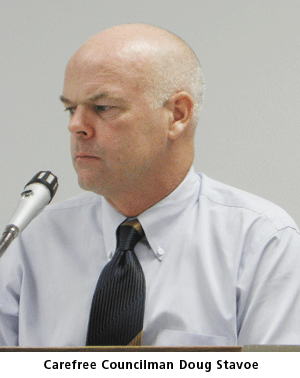 On Aug. 6, Stavoe sent an e-mail to Wise asking her to please explain to him via e-mail precisely why his term-limit initiative would require 398 signatures, which he noted was a considerably higher threshold than the number of signatures required for the direct election of mayor initiative on the November ballot.

Both initiatives should be based on the same criteria, since the March 9 recall election was the last municipal election.

While it's not clear how Wise calculated the signature requirement for Prop. 407, she responded to Stavoe by citing the pertinent section of the Carefree Town Code and the Arizona Constitution and stated, "There were 2,649 registered voters in the last election so 15 percent is 397.35 so rounding up for a full person makes the signature total 398."

Stavoe said, "Carefree voters are entitled to the highest level of integrity and fairness in our election process. None of us want the perception that election law in Carefree is not applied evenly …"

According to Maricopa County Election officials, once initiative petitions are turned in and certified for the ballot, any challenges must be made within 10 days through the court system.

Sonoran News' did not receive a response from Wise by press time and later learned she was on vacation.