BY LINDA BENTLEY | AUGUST 11, 2010
Parker plays the race card, endorses McCain and mass mails a 'mistake'
Is 'poster boy' now a politically incorrect racial slur?
PHOENIX – Congressional candidate Vernon Parker, running in the Republican primary for a shot at Rep. John Shadegg's seat in District 3, may live to regret attending the Original North Phoenix Tea Party (ONVTP) meeting on Monday night, where he was invited to fill in as a speaker until Sen. Russell Pearce could get there.

Prior to the meeting, barbs had already been exchanged between Parker and one of his opponents, Ben Quayle, who challenged Parker's ethics, specifically referring to Parker lying on his Small Business Administration application to obtain government contracts for minority-owned-businesses. Quayle stated Parker would "quickly become the national poster boy for the Democratic Party," a statement, which Parker's campaign immediately exploited as being racist.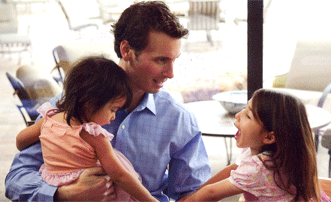 Parker then dubbed Quayle's campaign "niece-gate," referring to Quayle's nieces appearing in photos with Quayle in his campaign mailers, claiming Quayle had to essentially "rent a family" to make it appear he's a family man.

During the July 26 Original North Valley Tea Party meeting, Barbara Espinosa implored the group to endorse Parker. The ONVTP refused.

However, sometime between the July 26 and August 9 ONVTP meeting, Parker's campaign sent out mailers which contained a highlighted call-out quoting Fox News Anchor Trace Gallagher from July 14 as saying, "Vernon Parker, he's running for Congress. He has the backing of the Arizona Tea Party."

The various Tea Parties in Arizona conference call on a regular basis, so after members received the Parker mailer touting endorsement by the Tea Party, which is something the Tea Parties take very seriously and don't do lightly, the question arose if any of the Tea Party groups had endorsed Parker.

They had not. In fact, on Aug. 4, Wes Harris, founder of the ONPTP, contacted Espinosa to ask when she'd be putting her pen to the issue of Parkers claim of endorsement by the Tea Parties and said while the ONPTP used all of the Arizona 2010 Project's endorsements it refused the one for Vernon Parker. Harris stated, to his knowledge, no other Tea Party in Congressional District 3 had endorsed Parker, asking Espinosa, "So why the claim?"

During the Aug. 9 meeting, Lynne Weaver, an ONPTP member and Legislative District 7 precinct committeeman in CD 3, held the mailer up, and asked Parker why he would state he has the backing of the Arizona Tea Party when he clearly doesn't.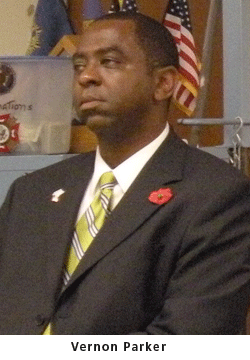 Parker said it was "My mistake."

Weaver noted Parker took ownership of the "mistake" and didn't say it was Gallagher's or Fox News' mistake.

Weaver asked if he was going to send out a mailer with a correction.

Parker said he didn't have the money to send out another mailer.

Weaver asked, "How about a press release?"

Parker said he might put something up on his website.

As of this writing, we were unable to find anything.

Another mailer sent out by the McCain campaign indicated Parker endorses McCain.

When questioned as to why Parker would endorse McCain, Espinosa sent out an e-mail explanation to the Arizona 2010 Project stating: "You guys need to get a grip. Cut the crap and get behind a candidate that can win if we can stop the pot shots being taken at him.

"Vernon stood in front of the North Phoenix Tea Party and said he was supporting J.D. [Hayworth] … Waring said he was supporting McCain, the other candidates waffled. One more time, here is the story:

"In late 2009, early 2010, McCain went to all of the mayors and asked them to sign a letter of support. Thirty-three mayors signed it, Vernon was one after he contacted J.D. and was told he was not going to run. After the brouhaha with McCain causing J.D. to be taken off the air and J.D. decided to run. McCain's group recontacted the mayors and asked them to sign a letter with a new date. Vernon Parker refused. They are using an old letter. They have done the same thing to Trent Franks. You are dealing with 'The McCain Mafia,' Ben (baby bird) Quayle and [Steve] Moak who are going down the tubes and will lie, cheat and send out misinformation to win because they don't have a record to stand on.

"Here is the logic if used. Why would Vernon Parker endorse McCain when McCain endorsed Waring. Think! Think! Vernon is not stupid, just tall." Espinosa's e-mail was rife with all caps, underlining, various colored type and superfluous punctuation.

The question remains, "Why did Parker ever endorse McCain?" Waring has been in the race for about as long as Parker and it's common knowledge that Waring was a long-time McCain aide. A betting man would probably put money on Waring being McCain's pick.

Late Tuesday afternoon Elaine Gangluff, a precinct committeeman in LD 11 and volunteer at GOP Headquarters, said she just received a robocall from the Parker campaign with Sheriff Joe Arpaio saying Parker was the only CD 3 candidate against amnesty for illegal immigrants.

Gangluff said she was extremely disappointed in Arpaio for making such a statement when it's a fact that several of the candidates in the CD 3 race, including Pamela Gorman and Sam Crump, are opposed to amnesty.

Why would Arpaio say such a thing? The answer most likely lies with Jason Rose, who handles the PR for both Arpaio and Parker.