BY LINDA BENTLEY | AUGUST 11, 2010
Communism in the classroom, courtesy Chinese Communist Party
While his teachings are strictly outlawed there, China uses Confucius' name to sell its language and culture program to the Western world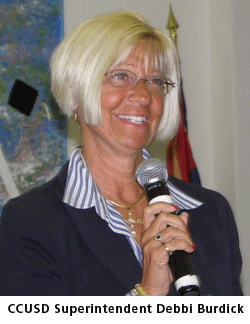 CCUSD – If you follow Cave Creek Unified School District on Twitter, on Friday you would have received a "tweet" saying, "Congratulations to HTES (Horseshoe Trails Elementary School) and LMES (Lone Mountain Elementary School) for receiving their Confucius in the Classroom Grants. Each school will receive $10,000 for materials."

The Confucius Classroom program is a Mandarin Chinese language and culture program with instructors and teaching materials provided by the Office of Chinese Language Council International, known as "Hanban."

Although Hanban presents itself as a nonprofit, nongovernmental organization, it is directly tied to the Chinese Ministry of Education, which is under the control of the Chinese Communist Party (CCP).

Like the International Baccalaureate program, which promotes the United Nations education agenda, Confucius Classroom has been spreading around the globe with close to 300 Confucius Institutes established at the university level and nearly as many Confucius Classrooms throughout the world.

It's interesting that the CCP would provide grants for free Mandarin Chinese language and cultural programs for elementary school students under the name of Confucius, whose teachings have been strictly outlawed for decades under the communist regime.

Judicial Watch, a nonprofit organization dedicated to fighting government corruption, posted an article on its Corruption Chronicles Blog back in April on the issue, titled, "Public schools get communist curriculum," stating, "It doesn't cost U.S. taxpayers a cent, which certainly makes the deal quite appealing to cash-strapped public school districts nationwide. Southern California's Hacienda La Puente Unified School District (HLPUSD) and Washington's Seattle Public School District are among those that have accepted the Chinese government's offer."

In a statement attributed to Victor Wang, an official with the Society of Confucian Studies in America, an organization that is actually dedicated to the study of Confucius, Judicial Watch wrote, "China's overseas school programs are a common communist tactic that provides benefits that appear harmless to make friends and infiltrate the target group. In this case Western society."

They also cite Jeanne Meng, former vice president of the organization, who says the real agenda is propaganda, whereas Confucius Classroom is attempting to foster goodwill and acceptance of the communist regime despite its well-documented record of human rights abuses. Meng said she would be "very worried" if her children were in a Confucius Classroom program because it uses traditional teaching and classroom settings to fulfill a communist political agenda.

While they seem to be excited about the program in Seattle and have established a Confucius Institute office in one of its middle schools, California's program has not been met with quite the same enthusiasm.

The HLPUSD, which is primarily Latino, has seen its demographics change over the years to over 36 percent Asian, mostly Chinese, as of the 2000 census.

On May 25, Jay Chen, who serves on the HLPUSD governing board, posted a letter on his blog to address concerns district residents expressed about the program.

He wrote, "As someone who was born in the U.S. but grew up and worked in Asia and Latin America, I can't stress enough the importance we need to place on teaching our students a second or third language, such as Spanish or Mandarin, two of the most widely spoken languages in the world.

"That is why I am proud that we will be expanding our existing Chinese language and culture course at Cedarlane Middle School through the Confucius Classroom grant …"

Chen said it was unfortunate not everyone shared his sentiment, which he attributed to "a great deal of misinformation" being distributed about the programs, "Including accusations that our teachers will be brainwashing students with communist ideology."

Chen claimed all of the district's language and culture classes will be taught by California accredited teachers and said, just like any subject area, "our teachers will be expected to adhere to the curriculum; the suggestions that teachers will be preaching communism are just untrue, they are an insult to teaching professionals who have dedicated their lives to bettering our students."

He concluded by saying, "I find it curious and disappointing that a handful of individuals have chosen to make our diverse community ground zero for a false propaganda campaign … With budget cuts looming, now is not the time to attack teachers or deny our students an opportunity to expand their horizons past ours."

Chen has also been quoted as saying, "We are teaching Chinese language and culture. The scary thing is all this debate against the Confucius Classroom, it really sounds like a return to McCarthyism."

Cedarlane history teacher Jane Shults wasn't so polite about the program's critics, calling them "jingoistic, xenophobic, not overly rational." She stated, "It's really shades of McCarthyism all over again."

And, yes, as Chen admits, they are teaching language and culture. But, what culture does anyone expect they'll be teaching, using a curriculum provided by Red China?

CCUSD Superintendent Debbi Burdick includes a Chinese proverb in all her e-mails, stating, "A child's life is like a piece of paper on which everyone leaves a mark."

Test results under Burdick's leadership are dismal, yet there are board members, parents and community members who continue to rally for her support, not to mention extending her contract for three more years, which brings another quote to mind: "The crowd that follows me with admiration would run with the same eagerness if I were marching to the guillotine," Napoleon Bonaparte.