BY PETE MOHR | AUGUST 11, 2010
Cactus Shadows' Suzie Cary: 'firm, fair and consistent'
New Dean of Students an experienced educator (30 years), LPGA member (15 years) and parent of three successful adults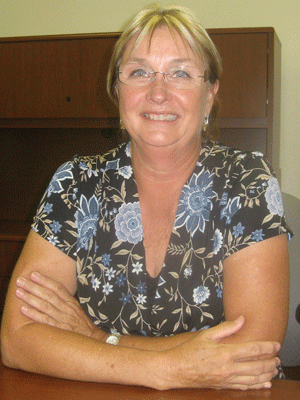 New "Sheriff" of Cactus Shadows, Suzie Cary.
Photo by Pete Mohr


CSHS – The opening bell rang at Cactus Shadows, Monday morning, Aug. 9. From my nine-year sportswriter's perspective, I would label this school year "Operation Stability." No one is more committed to that objective than Principal Steve Bebee, who begins his second year at the Falcon helm.

Principal Bebee's "A" (for "Administration") Team rosters Assistant Principal for Facilities and Athletics Rick Swearengin, starting his fifth year at CSHS; two year "letterperson" Assistant Principal for Curriculum and Instruction Jackie Beazley; and the "rookie" (but longtime educator/administrator), new Dean of Students Suzie Cary. She was nominated by an Interview Committee, May 28, 2010, and confirmed at CCUSD's July 12 Board Meeting.

In his comments to Sonoran News, Thursday morning, Aug. 5, Principal Bebee praised Dean Cary as "a great people person, an excellent communicator. She's a perfect match for my Administration team. Moving Rick (Swearengin) to be in charge of facilities and athletics, and bringing Suzie into the dean's position, I'm feeling very good about where we are, administratively, at the start of this new year."

Is Dean Cary, "a perfect match?" That "high bar" set by her boss won't faze this spirited lady. From an introduction in her office (July 19) and a telephone interview ten days later, I confidently represent to readers that Dean Cary is rarin' to go! And I guarantee that the new "sheriff" at Cactus Shadows will be a no-nonsense enforcer of the rules.

Fair warning from Dean Cary to would-be Falcon mischief-makers: "I'm going to be firm, fair and consistent." From her experienced career as a K-12 teacher and administrator (most recently as DAMS assistant principal, 2008-2009) and raising three children to successful adulthoods, Dean Cary has learned well to be all three: firm, fair and consistent. She emphasized to this writer, "I see my job as being all about encouraging students, helping them make good choices."

Before Dean Cary's policy statement, she had graciously acknowledged, "I want to continue the strong guidelines and policies Rick (Swearengin) put in place. I'm excited by the opportunity with which Dr. (Debbi) Burdick and Principal (Steve) Bebee have entrusted me. I'm looking forward to working with students and their families, my administration and faculty colleagues and our on-campus security professionals. And I thank the Interview Committee for their nominating consideration of my application."

Suzie Cary was born in Iowa City, Iowa, moving with her parents and siblings to the Valley at age 4. She graduated from Camelback High; earned a B.S. in Education from U of A; her M.Ed. from ASU; and a second Masters (in Administration) from University of Alaska (Juneau). During her 30 years in Alaska, she received the Presidential Award - Math and Science and was recognized as Alaska's "Teacher of the Year" (1993).

Cary returned to the contiguous United States in 1999. She worked as a school principal in Gilbert for three years. In 2005, she moved to Thailand, where, as an assistant principal, she was an administrator in a K-12 International Baccalaureate school.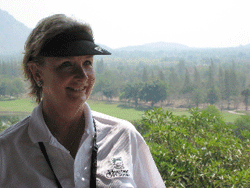 In buzz-word parlance, Dean Cary is a "multi-tasker." Encouraged by her parents to take up golf at age eight, she's been a member of the LPGA for 15 years as a teaching and club professional. During her DAMS tenure, she was an assistant golf professional at Desert Mountain. Currently she is women's head golf coach at Scottsdale Community College. She modestly admitted to this writer, "I guess I've been pretty successful at balancing two careers. Outside of my family, education and golf are my passions."

As Cactus Shadows Dean of students, her responsibilities will encompass discipline, attendance and what Dean Cary identifies as "campus safety." With demonstrated experience, high energy and good humor, count on Suzie Cary to bring "passion" and commitment to her new position.

Sonoran News extends congratulations and best wishes to Dean of Students Suzie Cary.