BY PETE MOHR | AUGUST 11, 2010
Boys 'Athlete-Of-The-Year' award adds to Paul Walsh's 'Triple Crown'
CSHS '10 Football Falcon will be freshman offensive coordinator before leaving on two-year LDS mission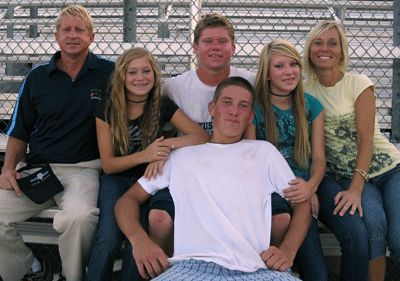 Paul Walsh and family: (l-r) father Rick Anderson; sister Nicole, 11, a 7th-grader at STMS; brother R.J., 15, a Football Falcon sophomore; Walsh; sister Taylor, 13, a CSHS freshman; and mother Rhonda.


Photo by Pete Mohr


At the mid-December 2009 Football Awards Banquet, Head Coach Chad DeGrenier unintentionally "stole (this writer's) thunder" when he named back-up quarterback and placekick holder Paul Walsh as the second recipient of the "Falcon Triple Crown Award," honoring Walsh's leadership, athleticism and scholarship. Walsh filled the big shoes of inaugural award winner, Bo Campbell (CSHS '09).

Some nine months later, Sonoran News is pleased to recognize Paul Walsh as its 2009-2010 "Boys Athlete of the Year." I could end this feature with one sentence by offering my opinion that Paul Walsh exemplified every positive attribute a high school athlete – boy or girl – should demonstrate, no different than "Coach D.'s" criteria for the "Triple Crown."

In Paul Walsh's leadership, his foundation was "unselfishness." During the Falcons' exciting 11-1 run in 2009, Walsh experienced both dramatic success and major disappointments. He just bowed his neck and quietly kept on being Paul Walsh, never wavering in his commitment to the "senior leadership" role that had humbled him when he and teammate Tyler Souva were the two captains elected by the team. (Coach DeGrenier and his coaching staff would name the other two deserving captains, Tommy Murphy and Zach Sexton.)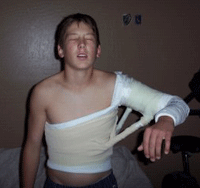 In late October 2008, last JV game of the season at McClintock, QB Paul got crunched dropping back to pass, suffering a severe break in his left arm just below the shoulder. "I knew something was wrong when I hit the ground," he recalls. The injury put him in a bizarre cast for almost four months. Looking upon Paul to resemble a disabled pelican, I nicknamed him "The Bird Man!" (As you can see in this photo snapped by his Mom, Rhonda Anderson, as Paul emerged from surgery.)

I was dead certain he would never be able to – or want to – play football again. Wrong! "Pete, I was sure that I was going to play my junior and senior seasons." It's no revelation that leadership takes physical courage.

It also requires mental toughness. After putting 32 winning points on the board in their opener at Cienega, the Falcon offense sputtered in the second game at Greenway. The Demons led, 7-0, with about 2 and a half minutes to play in the 1st half. "Coach D." called Paul's number. He proceeded to lead the Falcs on a 60-yard scoring drive, the last 15 a perfect strike on a crossing pattern to the flanked-out Dillon Classen.

"I was thinking that I was gonna start the 2nd half; but as we walked onto the field, Coach told me he was starting Dillon again. Yeah, I was disappointed." Admitting disappointment is honest, human: Paul's determination not to be distracted by disappointment is a life lesson that will never fail him.

Classen responded with what I believe will go down in CSHS football history as the greatest – and most versatile – 2nd half performance by a Falcon quarterback, as the 'Birds went on to upset the Demons, 28-21, in double overtime. Who held for classmate Bryce Redmond's critical extra points? Paul Walsh – as he'd done for two seasons. In the postgame end zone exultation at Greenway, Coach DeGrenier awarded Paul the "O" game ball.

As a Falcon, Paul, born Feb. 10, 1992 in Cincinnati, Ohio, is not done. He will coach under Freshman Head Coach Jerry Cumberland as offensive coordinator, mentoring quarterbacks, running backs and receivers. In November, he expects to learn his two-year LDS mission assignment, on which he'll embark in late-February. When his mission is completed, his collegiate sights are set on BYU, U of A or ASU.

What did being a Football Falcon mean to Paul? "I loved it! Representing my school and the community. For me, high school football was (is) all about pride … the love of the game … and the great friends I made. In 50 years, or when I get to be as old as you, Pete, I'll remember them and the great senior season we had!"

And I won't forget you, "Bird Man." If, at 73, I could order up a second son, I'd put in my bid for a Paul Walsh.