BY LINDA BENTLEY | AUGUST 4, 2010
Council rejects Thorstenson general plan amendment
'I'm shocked Mr. Trenk made the motion. He should have recused himself'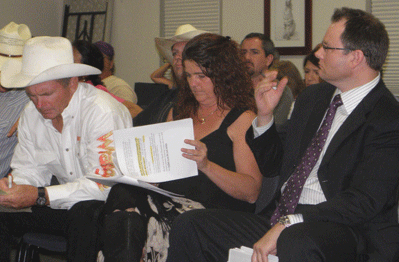 Council rejected T.C. Thorstenson's (l) general plan amendment application by a vote of 3-4 during Monday night's council meeting after his Attorney Chris Lonn, seated next to Alice Kunka, threatened to sue if it was not approved. Photo by Linda Bentley


CAVE CREEK – During Monday night's council meeting, T.C. Thorstenson's general plan amendment and rezoning applications were introduced amidst a bit of confusion over whether or not Thorstenson's proposed use would require a special use permit (SUP).

When Mayor Vincent Francia asked Town Attorney Marlene Pontrelli if those rights were grandfathered in, she said the way this was represented to her, the property owner will be doing the same thing and stated, "If all we're doing is the exact same thing and he wants to continue doing the same thing," an SUP would not be required.

But, if that were the case, Pontrelli said she didn't understand why he was requesting a change.

Pontrelli explained if there was a change in use, for example, from residential to commercial, then it would trigger the need for a SUP. However she said, "This is different. The applicant is asking you to change the general plan and zoning but we don't know what the new use will be."

Councilman Adam Trenk asked, "What would lead you to believe we don't know what the use will be?"

Vice Mayor Ernie Bunch requested further clarification by asking, "Would a change from casual use to commercial not require an SUP?"

Pontrelli responded, "Yes, a change in use would trigger the SUP."

Council was also told the only legal access to the property was from Vermeersch Drive.

When asked about the recorded easements, Pontrelli said the town was not a party to the easements, it never voted to activate the easements and they were not enforceable by the town.

Thorstenson, in his third attempt to rezone the property was represented by Attorney Chris Lonn.

Lonn told council, "To not grant Mr. Thorstenson his request would be denying him use of his property," and compared the case to Walmart.

Francia asked if he believed the town was required to grant a general plan amendment and rezoning.

Lonn, in a roundabout way, appeared to say it was and stated, "The question answers itself."

Francia then asked, "If the use of the property isn't changing, what is the purpose?"

Lonn said the property would be used for a Western cultural center and Thorstenson would seek a SUP once the general plan amendment and rezoning is passed.

Lonn provided council with a handout from the 2006 town core plan, which included the since removed notation designating the area as being suitable for more intensity, which, according to Lonn, "obviously would mean commercial use."

He said, "Turning this down for the third time could have a chilling effect on those who come to this town."

If council didn't approve Thortenson's application, Lonn stated, "My client would have no alternative than to bring an action."

Francia asked, "Are you threatening the town?"

Lonn said he wasn't and stated because Thorstenson loves the town so much that would be the last thing he'd want to have to do "to exercise his rights."

During public comment, Alice Kunka, who introduced herself as the ambassador of the Carefree/Cave Creek Chamber of Commerce, spoke in favor of the change, quoting various town council members' visions for Cave Creek, including those of Thomas McGuire and Grace Meeth, who were not reelected.

Terry Smith urged council to vote in favor of the application, citing the property "should have been commercial all along."

Troy Hager, a friend of Thorstenson's from New River, was also there as a proponent.

Jeannette Fish, Executive Director of the Maricopa County Farm Bureau read statements about "principles" and in support of the change.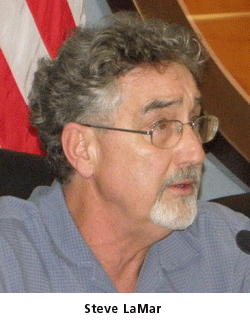 When Councilman Steve LaMar asked if she was speaking on behalf of the Farm Bureau or for herself, Fish said she was speaking on behalf of the Farm Bureau's principles.

When LaMar asked again, Fish finally stated she was speaking on behalf of the Farm Bureau's principles from their booklet but said no, the Farm Bureau did not tell her to come there to speak in support of Thorstenson's application.

When Arlie Gross got up to speak, he turned around and, looking at Lonn, said, "God, I hate lawyers."

Gross said when the bank took the adjacent property to the south back "it showed that it has easements."

Charles Spitzer questioned what had changed since the last two times the application came before council and stated, "The applicant knew this was residential when he bought it."

Several Black Mountain Shadows residents spoke in opposition, including Susan Natker, who brought a petition signed by 57 residents opposed to the land use change.

Bob Moore stated there was absolutely no demand for additional commercially zoned property in Cave Creek.

Thorstenson stated, "I don't plan to do anything new with the property. I'm not going to do nothing that's not allowed."

He went on to say, "This is a tourist town. We need tourists. This town needs that site."

When Councilman Jim Bruce asked what the current use was, Thorstenson replied, "Private riding."

After a couple of citizens suggested Thorstenson's commercially zoned property on the south side of Cave Creek Road would be more appropriate, Lonn claimed the "highest and best use" for that parcel was "probably a strip mall."

As he called for a motion, Francia said there were seven people who spoke in favor and seven who spoke against.

Trenk moved to approve the general plan amendment, stating the application was consistent with the Town Core Plan. He said the town needed the property as a revenue source and urged council to "make the tough decision tonight."

Councilman Ralph Mozilo said he's been dealing with this issue ever since he's been on council and stated, "I thought it should be commercial then and I do now."

Bruce stated he had every intention of voting for it until Lonn threatened them and said, "I cannot vote for this general plan amendment."

Councilman Dick Esser expressed concern over Vermeersch being the only legal access and which he deemed inadequate, and because another document called for the easements to be "relocated" and "rededicated."

LaMar said he had a different perspective and stated, "It seems like Mr. Trenk justifies change based on what is going to be on the property.

"Before we were threatened by my illustrious colleague," Lamar, who is also an attorney, said neither Walmart nor Stagecoach Village were valid comparisons since Walmart is not in the town core and Stagecoach Village was already zoned commercial.

LaMar then said, "I'm shocked Mr. Trenk made the motion. He should have recused himself," indicating Trenk was far too involved with Thorstenson.

LaMar said there were some arguments for the change, but pointed out the referendum indicated people saw some value to the parcel staying residential. He concluded, "I'm not going to be threatened."

Trenk, who interrupted LaMar to defend against the allegation of impropriety, claimed he'd only accompanied Thorstenson to town hall on one occasion. He then launched an attack against LaMar, Sonoran News, where he "couldn't get a fair shake," and then against Bruce because Bruce's wife, as president of the Cave Creek Film and Arts Festival, received a $40,000 donation from Walmart.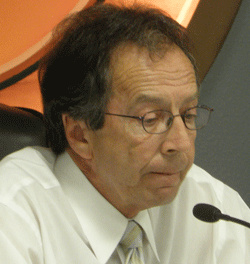 Mayor Vincent Francia, who did not take too kindly to being threatened by Attorney Chris Lonn, was the deciding vote in rejecting Thorstenson's general plan amendment application.
Before the meeting could morph any further into the "Harper Valley PTA," Francia interrupted, apologized for allowing the situation to go down that path and called for a short break.
When they reconvened, Pontrelli advised council, "We're very much off track. It's irrelevant to agenda item number six."
Trenk apologized but insisted there was no impropriety on his part in making the motion.
Bunch said he felt the parcel was incorrectly zoned the last two times it had come before council and stated, "I still do."
In calling for a vote, Francia stated, "General plan amendments are at the discretion of council."
The motion failed by a vote of 4-3, with Trenk, Bunch and Mozilo voting in favor. It also rendered Thorstenson's rezoning application moot.